A veteran police officer from Canada's Peel region was demoted for one year after pleading guilty to "discreditable conduct" over an April 2021 video that showed him hugging and shaking hands with anti-lockdown protesters outside a Mississauga gym that opened to the public despite provincial stay-at-home orders.
Const. Paul Brown was demoted from his sergeant position after a discipline hearing last month, according to Mississauga News.
The report also detailed that Brown caught flak for stances he expressed in the recording, supporting the protesters and noting that he disagreed with lockdown and mask mandates in place at the time.
CANADIAN PASTOR ARRESTED SECOND TIME FOR PROTESTING CHILDREN'S DRAG QUEEN EVENTS: 'SICK, TWISTED PERVERSION'
TRUDEAU'S FOREIGN INTERFERENCE INVESTIGATOR RESIGNS AFTER MEDIA LEAKS OF CHINA'S MEDDLING IN CANADA ELECTIONS
Retired Superintendent Peter Lennox, the hearing officer who released the decision, later alleged Brown's actions "might have eroded public confidence in Peel Regional Police's willingness to enforce the law," according to Missisauga News' report.
Sean O'Shea, a reporter with Canada's Global News, showed up at the site and recorded the video where protesters confronted him and accused him of "communism" and "fascism" for toeing the lockdown line.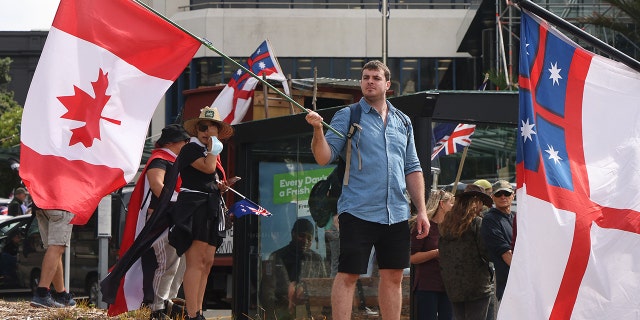 A protester stands with a Canadian flag near the parliament building in Wellington on February 8, 2022, during a demonstration against Covid restrictions, inspired by a similar demonstration in Canada. (Photo by MARTY MELVILLE/AFP via Getty Images)
HUF Gym, the site of the protests, refused to close its doors to clients despite area restrictions. Mississauga News said the establishment's Instagram shared a separate video of Brown to its page and, in it, he stated his unwillingness to enforce the COVID policies demonstrators were protesting.
Brown was suspended at the time and placed on paid leave during an internal investigation.
Despite backlash, Brown's defense team claimed his actions were done with intent to keep the peace instead of advance an agenda.
Fox News Digital reached out to the Peel Regional Police for comment, but did not receive an immediate response.