As California grapples with how to deal with heat waves made more intense by climate change, schools in the state may soon have to come up with plans for cooling down outside play areas by planting more trees and replacing surfaces like asphalt that swelter on hot days.
The state Senate passed the legislation that would require public and charter schools and districts to strategize on how to introduce more shade on campus, plant gardens and replace surfaces that hold on to a lot of heat with alternatives such as grass and wood chips. They have a 2027 deadline to start implementing their plans.
"We needed this a long time ago," said state Sen. Caroline Menjivar, a Democrat representing the San Fernando Valley in Los Angeles County. "We are making up for the decades of delay that we're in right now."
PACIFIC NORTHWEST HEAT COULD SEND TEMPERATURES UP TO 30 DEGREES ABOVE AVERAGE
Children are at a greater risk than adults of suffering from heat-related illnesses that can cause nausea, muscle cramps, fatigue and fainting, according to the U.S. Centers for Disease Control and Prevention.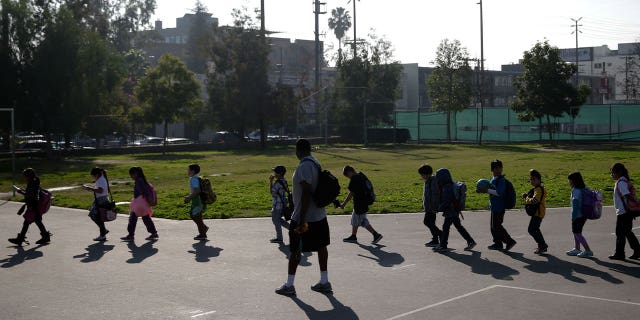 A group of students walks back to their classroom after finishing their afternoon snack at Kingsley Elementary School on Jan. 13, 2015, in Los Angeles. Schools in California may soon have to come up with strategies to cool down outside areas.  (AP Photo/Jae C. Hong, File)
Some groups agree with the broader goal to mitigate heat at schools but say the bill still misses the mark. Ian Padilla of the California Coalition for Adequate School Housing, which advocates for state bonds to help update school facilities, said implementing the legislation would cost too much and overlaps with some existing standards set by the state to plant shade trees outside buildings.
The legislation could cost the state "in the low to mid hundreds of millions of dollars," or at least $10,000 per school by providing grants for schools to implement their plans, the Senate Appropriations Committee estimated.
It's essential that schools "that don't necessarily have the resources" or "community backing to do this, get it," Hildebrand said.
Courtney Tompkins, who lived in the Southern California city of Laguna Niguel before moving to Massachusetts, said her son, who is autistic and was at the time completely nonverbal, was left asleep outside for more than an hour on a hot day at school in 2016. Tompkins found out about the incident at the end of the school day from a teacher, she said.
She said she filed a negligence complaint with the state over the incident, which resulted in a settlement in which her son was placed at a different school. Tompkins said she could not name the school district because she signed a non-disclosure agreement as part of the settlement.
"It would make a huge difference in terms of the mental health and physical health of our students," Ramadan said. "If more of the basic needs are met, then some of the higher things on the pyramid can also be achieved."