Tennessee Senator Marsha Blackburn on Monday endorsed Donald Trump for president, adding to the growing list of elected Republican officials supporting the former president.
"Under President Trump, our economy was booming, gas prices were low, and inflation was under control. Our order was secure, our adversaries feared us, & our military was strong," Sen. Blackburn, R-Tenn., said in a Monday tweet.
"I am proud to endorse Donald Trump for President and can't wait until he's back in the White House," she said.
TRUMP WORLD IS LOSING KEY PLAYERS TO DESANTIS AS MENTOR AND PROTEGE CLASH AHEAD OF GOP PRIMARY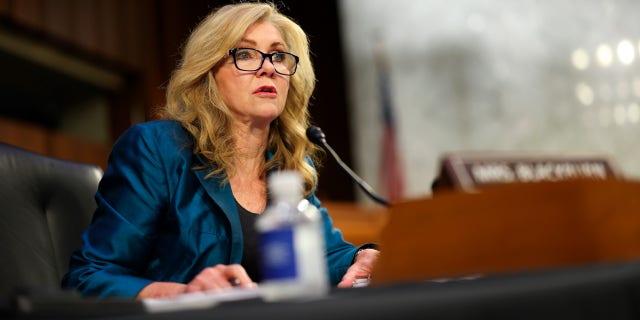 Tennessee Republican Senator Marsha Blackburn pictured at a hearing on Capitol Hill.   (Kevin Dietsch/Getty Images)
Blackburn's announcement follows Rep. Byron Donalds, R-Fla., who announced his support for Trump earlier this month and became the third Republican from Florida to endorse him. Those endorsements came even though Florida Gov. Ron DeSantis is widely expected to enter the race.
Senate Judiciary Ranking Member Lindsey Graham, R-S.C., is another Republican who has shown early support for the former president.
Trump is the Republican favorite to take the nomination at this point in the race, and is ahead in the polls by double digits against DeSantis.
A poll from Quinnipiac University released last month also indicated that a majority of Americans say Trump should be disqualified from running for the White House because he faces criminal charges in ongoing local and federal investigations.
TRUMP HOLDS BIG LEAD OVER DESANTIS IN '24 GOP RACE, BUT MOST VOTERS SAY HE SHOULD BE DISQUALIFIED IF INDICTED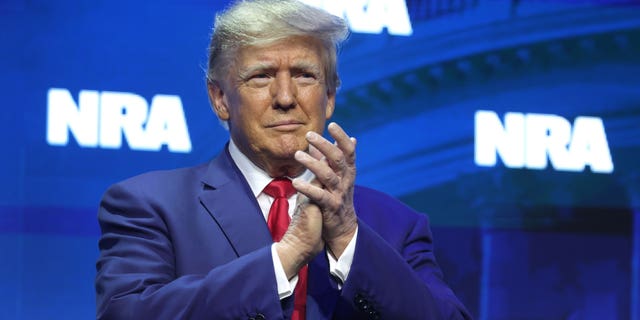 Former President Donald Trump speaks to guests at the 2023 NRA-ILA Leadership Forum on April 14, 2023 in Indianapolis, Indiana. (Scott Olson/Getty Images)
Trump was charged with 34 felony counts of falsifying business records after Manhattan DA Alivn Bragg's investigation of hush money payments to adult film actress Stormy Daniels in 2016.
The former president denies sleeping with Daniels and denies falsifying business records to keep the payment concealed, and pleaded not guilty to all the charges.
REP. HARSHBARGER ENDORSES DONALD TRUMP TO BE PRESIDENT: 'BIDEN ADMINISTRATION HAS FAILED US'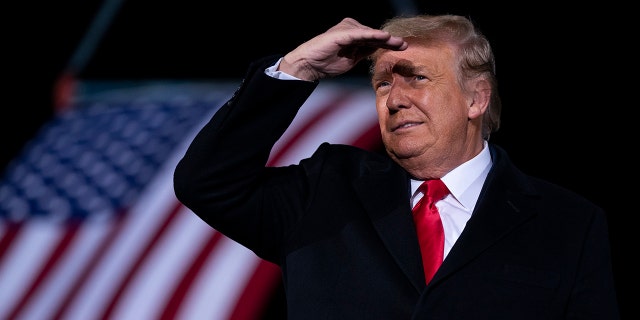 Former President Donald J. Trump. (AP Photo/Evan Vucci, File)
Trump's fundraising has skyrocket since his unprecedented indictment. According to his campaign, Trump brought in nearly $18.8 million in the January-March quarter of 2023 fundraising.
CLICK HERE TO GET THE FOX NEWS APP
But the campaign also points out that Trump hauled in nearly as much – $15.4 million – in the two weeks following March 30, when news broke of Trump's indictment, making him the first former president in U.S. history to be charged with a crime.
Fox News Digital's Houston Keene and Paul Steinhauser contributed to this report.