A former CIA official testified that then-Biden campaign senior advisor, now-Secretary of State Antony Blinken "played a role in the inception" of the public statement signed by current and past intelligence officials that claimed the Hunter Biden laptop was part of a Russian disinformation campaign.
Former CIA Deputy Director Michael Morrell testified before the House Judiciary and Intelligence Committees, and revealed that Blinken was "the impetus" of the public statement signed in October 2020 that implied the laptop belonging to Hunter Biden was disinformation.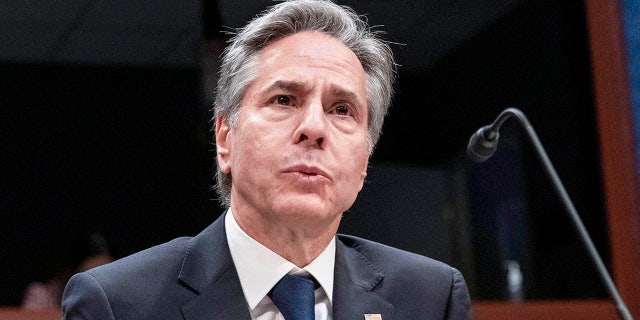 Secretary of State Antony Blinken testifies to the House Foreign Affairs Committee, Thursday, March 23, 2023, on Capitol Hill in Washington. (AP Photo/Jacquelyn Martin) (AP Photo/Jacquelyn Martin)
WHITE HOUSE INSISTS NO 'POLITICAL INTERFERENCE' IN HUNTER BIDEN PROBE AFTER IRS WHISTLEBLOWER COMES FORWARD
House Judiciary Committee Chairman Jim Jordan, R-Ohio, and House Intelligence Committee Chairman Mike Turner, R-Ohio, sent a letter to Blinken Thursday, notifying him that the panels are "conducting oversight of federal law-enforcement and intelligence matters within our respective jurisdictions."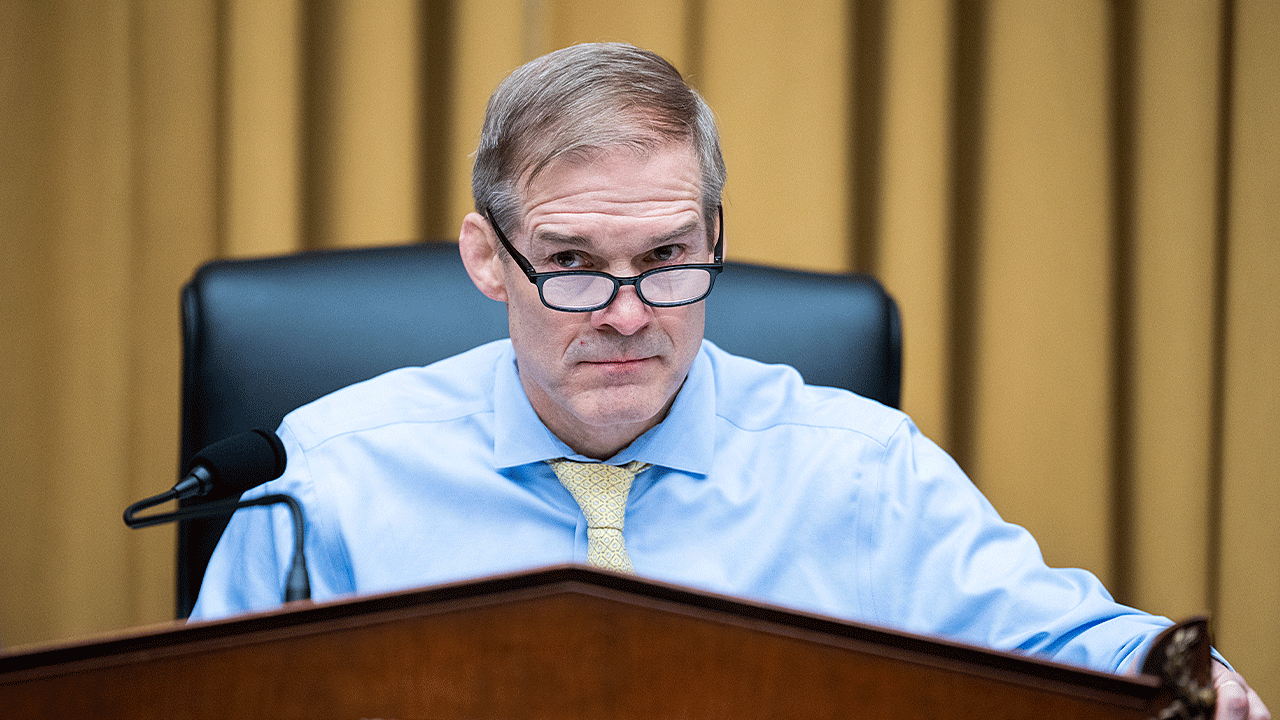 Chairman Jim Jordan, R-Ohio, conducts the House Judiciary Select Subcommittee on the Weaponization of the Federal Government hearing titled The Twitter Files, in Rayburn Building on Thursday, March 9, 2023. (Tom Williams/CQ-Roll Call, Inc via Getty Images) (Tom Williams/CQ-Roll Call, Inc via Getty Images)
"We are examining that public statement signed by 51 former intelligence officials that falsely discredited a New York Post story regarding Hunter Biden's laptop as supposed Russian disinformation," they wrote. "As part of our oversight, we have learned that you played a role in the inception of this statement while serving as a Biden campaign advisor, and we therefore request your assistance with our oversight."
BIDEN FAMILY RECEIVED MORE THAN $1M FROM HUNTER ASSOCIATE AFTER 2017 CHINA WIRE: HOUSE OVERSIGHT
In October 2020, weeks before the presidential election, dozens of ex-national security officials signed onto a letter claiming that Hunter's laptop had "all the classic earmarks of a Russian information operation."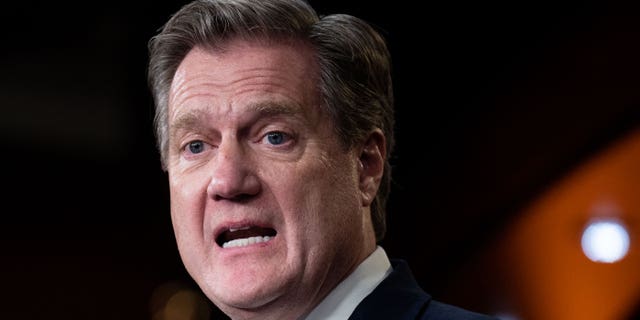 Rep. Mike Turner, R-Ohio, speaks during the House GOP news conference on FY23 government funding on Wednesday, December 14, 2022. (Bill Clark/CQ-Roll Call, Inc via Getty Images)
The former officials included former Obama CIA Director John Brennan, former Obama DNI James Clapper, and former CIA director, then-Defense Secretary Leon Panetta, among others.
The lawmakers said that based on Morell's testimony, it is "apparent" that the Biden campaign "played an active role in the origins of the public statement, which had the effect of helping to suppress the Hunter Biden story and preventing American citizens from making a fully informed decision during the 2020 presidential election."
"Although the statement's signatories have an unquestioned right to free speech and free association—which we do not dispute—their reference to their national security credentials lent weight to the story and suggested access to specialized information unavailable to other Americans," they wrote.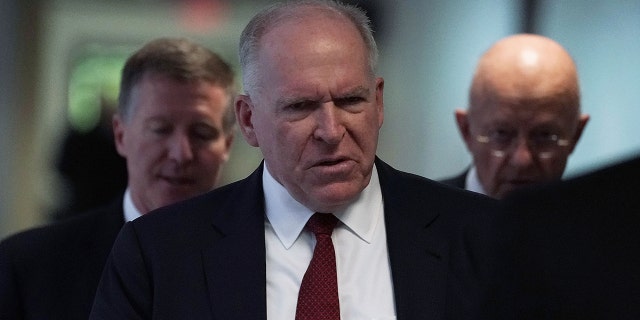 Former CIA director John Brennan (2nd L) and former director of National Intelligence James Clapper (R) arrive at a closed hearing before the Senate (Select) Intelligence Committee May 16, 2018 on Capitol Hill in Washington, DC.  (Photo by Alex Wong/Getty Images)
They added: "This concerted effort to minimize and suppress public dissemination of the serious allegations about the Biden family was a grave disservice to all American citizens' informed participation in our democracy."
Jordan and Turner notified Blinken that they conducted a transcribed interview with Morell, who signed onto the letter.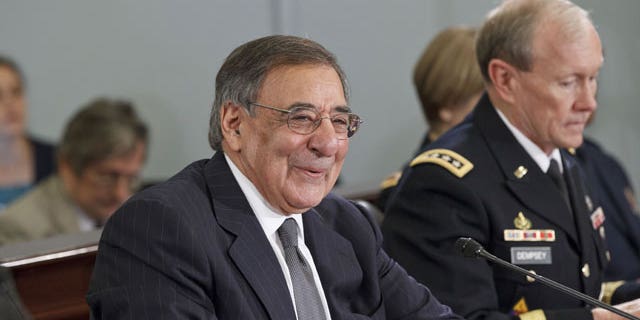 Feb. 29, 2012: Defense Secretary Leon Panetta, left, on Capitol Hill in Washington. (AP)
"In his transcribed interview, Morell testified that on or around October 17, 2020 you reached out to him to discuss the Hunter Biden laptop story," they wrote. Blinken, at the time, was a senior advisor to the Biden campaign.
"According to Morell, although your outreach was couched as simply gathering Morell's reaction to the Post story, it set in motion the events that led to the issuance of the public statement," they wrote.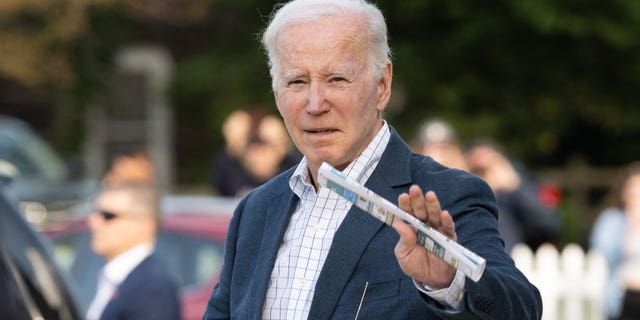 President Joe Biden leaves following services at St. Edmond Catholic Church in Rehoboth Beach, Delaware, on April 15, 2023. (Saul Loeb/AFP via Getty Images)
Morell testified that the Biden campaign "helped to strategize about the public release of the statement."
RATCLIFFE: HUNTER BIDEN LAPTOP WAS A PARTISAN DOMESTIC 'DISINFORMATION CAMPAIGN'
"Morell further explained that one of his two goals in releasing the statement was to help then-Vice President Biden in the debate and to assist him in winning the election," Jordan and Turner wrote.
Morell testified: "There were two intents. One intent was to share our concern with the American people that the Russians were playing on this issue; and, two, it was to help Vice President Biden."
Morell was asked why he wanted to help Biden.
"Because I wanted him to win the election," Morell testified.
Jordan and Turner are demanding Blinken to provide material to help them to "advance" their oversight.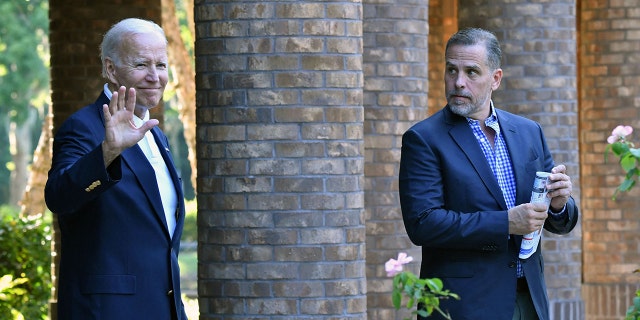 ABC, NBC and CBS have completely skipped recent unflattering breaking news related to President Biden's son, Hunter Biden, according to a new study from the Media Research Center.  (Nicholas Kamm/AFP via Getty Images)
They demanded Blinken identify the people he communicated with about drafting the statement; and produce all documents referring to the statement.
They gave Blinken until May 4 at 5:00 p.m. ET.
FLASHBACK: FBI IN POSSESSION OF HUNTER BIDEN'S PURPORTED LAPTOP, SOURCES SAY
Fox News first reported the existence of some type of investigation involving Hunter Biden in October 2020, ahead of the last presidential election. It became known then that the FBI had subpoenaed the laptop purportedly belonging to Hunter Biden in the course of an existing money laundering investigation.
Hunter Biden confirmed the investigation into his "tax affairs" in December 2020, after his father was elected president.
Fox News first reported in 2020 that the federal investigation into Hunter Biden's "tax affairs" began amid the discovery of SARs regarding funds from "China and other foreign nations.
The investigation is being led by Trump-appointed Delaware U.S. Attorney David Weiss. Hunter Biden has been under federal investigation since 2018.