Sen. Bernie Sanders, I-Vt., a former two-time presidential candidate, said Tuesday he would forego a third run for the White House and would instead endorse President Biden's re-election bid, according to a report by The Associated Press.
Biden announced earlier in the day that he would be seeking a second term despite polls showing a majority of Americans, and Democrats, don't want him to run again.
According to the report, Sanders said he would "do everything I can to see the president is reelected," and warned against a victory by former President Trump or another Republican.
DESANTIS' TEAM MOCKS BIDEN'S 'FINISH THE JOB' 2024 ANNOUNCEMENT: 'WE'D RATHER YOU NOT'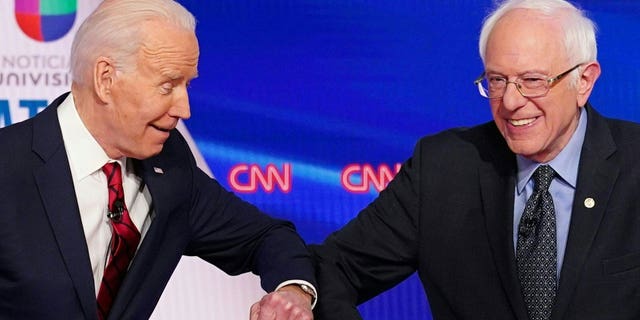 Democratic presidential hopefuls former US vice president Joe Biden (L) and Senator Bernie Sanders greet each other with a safe elbow bump before the start of the 11th Democratic Party 2020 presidential debate in a CNN Washington Bureau studio in Washington, DC on March 15, 2020. (MANDEL NGAN/AFP via Getty Images)
"The last thing this country needs is a Donald Trump or some other right-wing demagogue who is going to try to undermine American democracy or take away a woman's right to choose, or not address the crisis of gun violence, or racism, sexism or homophobia," Sanders reportedly said. "So, I'm in to do what I can to make sure that the president is reelected."
Sanders predicted Biden would ultimately be the Democratic nominee on Election Day, and said he thought his job, and the job of the progressive movement, was "to make certain that [Biden] stands up and fights for the working class of this country and does not take anything for granted."
WHITE HOUSE DISMISSES POLLS SHOWING CONCERN FOR BIDEN'S AGE, DEMOCRATS NOT WANTING HIM TO RUN AGAIN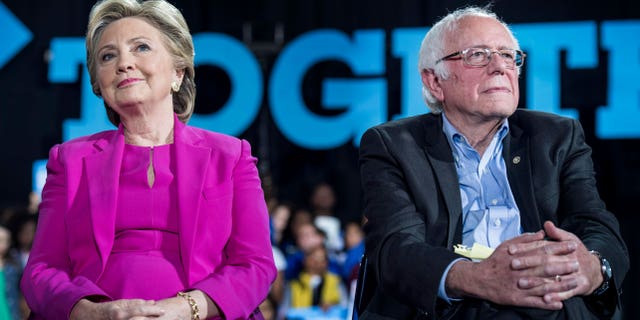 Then-Democratic Nominee for President of the United States former Secretary of State Hillary Clinton, with Senator Bernie Sanders (I-VT), speaks to and meets North Carolina voters at Coastal Credit Union Music Park at Walnut Creek during a rally in Raleigh, North Carolina Thursday, November 3, 2016. (Melina Mara/The Washington Post via Getty Images)
Sanders, a socialist who has served in Congress for decades as a member of both the House and Senate, was the runner-up for the Democratic presidential nominations in both 2016 and 2020, and has commanded a large following among the progressive wing of the Democratic Party since entering the national stage.
The 81-year-old will likely never run for president again, given his age, but said it was "a wonderful privilege" to have run when he did.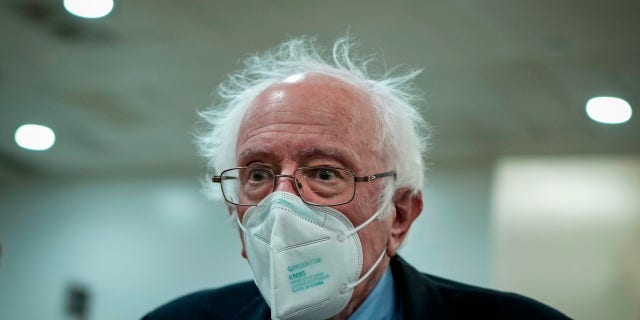 Sen. Bernie Sanders (I-Vt.) walks through the Senate subway after a procedural vote on the Respect For Marriage Act at the U.S. Capitol on November 28, 2022, in Washington, DC. (Drew Angerer/Getty Images)