An Australian mother who spent two decades in prison over the deaths of her four babies has been pardoned and released Monday after new evidence surfaced that the children died by natural causes as she had always claimed.
Kathleen Folbigg, now 55, was released from a prison in Grafton, New South Wales state, following an unconditional pardon by Gov. Margaret Beazley. The children's father Craig Folbigg, still believes his ex-wife is guilty, the New York Post reported, but the new evidence was enough to convince the government.
"There is a reasonable doubt as to Ms. Folbigg's guilt of the manslaughter of her child Caleb, the infliction of grievous bodily harm on her child Patrick and the murder of her children Patrick, Sarah and Laura," New South Wales Attorney-General Michael Daley told reporters.
The children died separately over a decade, at between 19 days and 19 months old.
Prosecutors had told the jury at her trial that the similarities among the deaths made coincidence an unlikely explanation.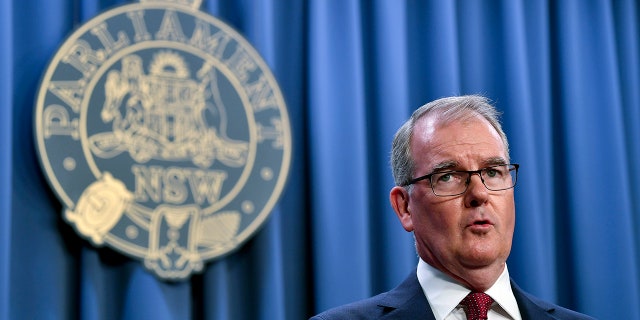 New South Wales Attorney-General Michael Daley on Monday said that Kathleen Folbigg was pardoned and released after it became known that there was reasonable doubt about Folbigg's guilt based on new scientific evidence that the deaths could have been from natural causes. (Joel Carrett/AAP Image via AP)
In 2018, newly discovered evidence suggested that both daughters carried a rare CALM2 genetic variant.
TEXAS WOMAN KILLED, 4 FAMILY MEMBERS WOUNDED IN PARKED CAR OUTSIDE APARTMENT COMPLEX
Folbigg was serving a 30-year prison sentence that was to expire in 2033. She would have become eligible for parole in 2028.
Folbigg's diary entries led her ex-husband to believe she was guilty, as he reportedly believed they admitted guilt. The Post reported that former Chief Justice Thomas Bathurst concluded in an analysis of the case that the, "evidence suggests they were the writings of a grieving and possibly depressed mother," who blamed herself for the tragedies.
The Associated Press contributed to this report.