Philippines Nobel laureate Maria Ressa acquitted in tax fraud case
'We hope to see the remaining charges dismissed'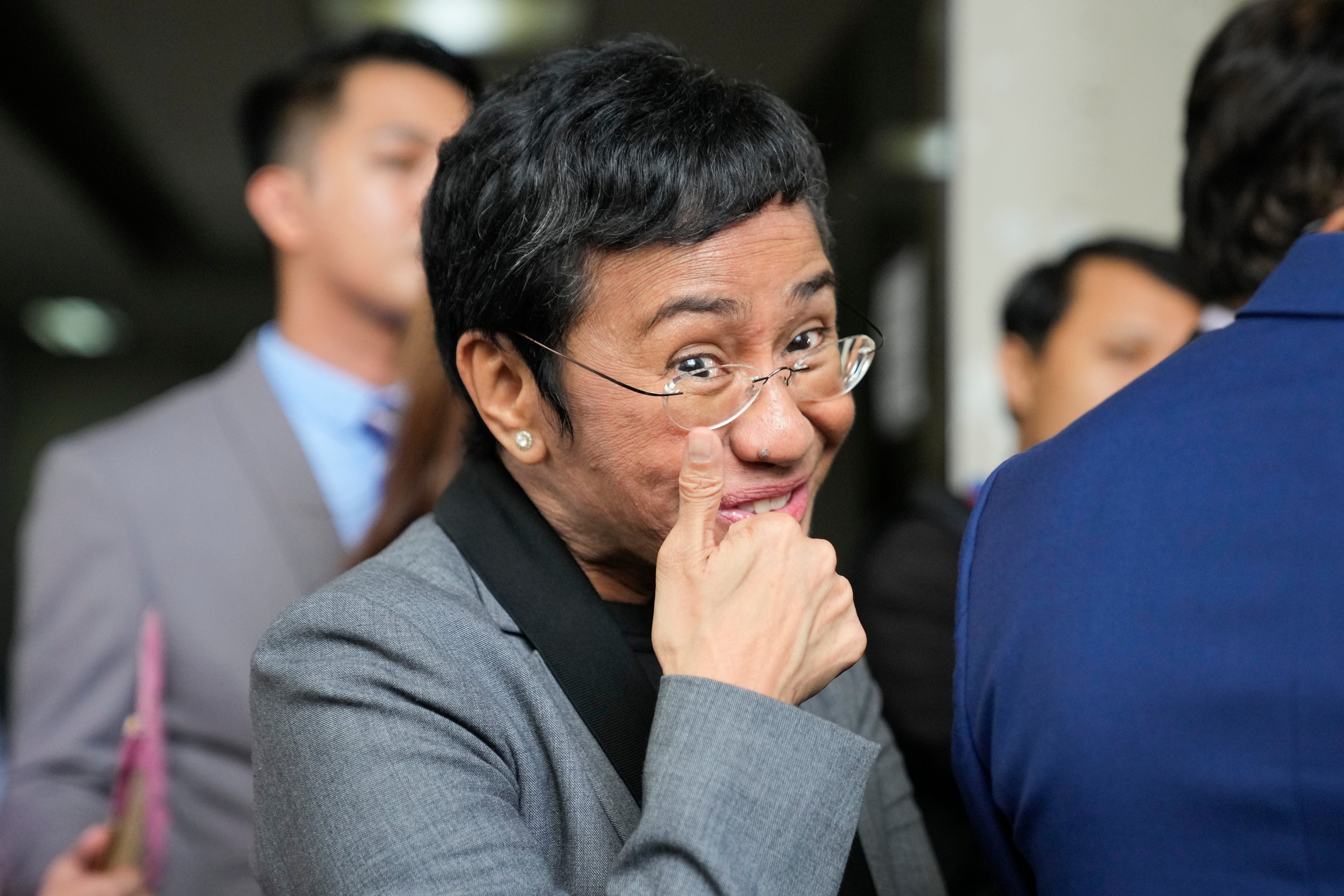 Maria Ressa, the Nobel laureate from the Philippines, and her news platform Rappler were declared not guilty of tax fraud by a trial court on Tuesday.
After the victory – which is being seen as a big win for press freedom in the country and for the embattled journalist herself – Ms Ressa, 59, told the media that the acquittal sends a "good signal" to the business community, as her tax charges "have a lot to do with the rule of law".
"The acquittal now strengthens our resolve to continue with the justice system, to submit ourselves to the court despite the political harassment, despite the attack on press freedom," she said.
"It shows that the court system works. We hope to see the remaining charges dismissed," she added.
Ressa and her online news organisation Rappler had faced five tax evasion charges but a court acquitted her of four of the charges in January. A different court heard the fifth charge and acquitted her on Tuesday.
She still faces two remaining legal cases.
The case was brought forth just two months after the Philippines' Securities and Exchange Commission [SEC] issued a shutdown order against Rappler, citing the Duterte administration's assertion that the company was foreign-owned.
She had said that the charges against her were politically motivated, given that Rappler had been openly critical of Duterte's harsh anti-drug campaign, which resulted in the deaths of thousands, primarily involving low-level drug offenders.
The International Criminal Court is currently conducting an investigation into this crackdown as a possible crime against humanity.
This triumph concludes a four-year and ten-month-long trial of the case that was initiated during the tenure of former president Rodrigo Duterte's administration.
Rappler was known for its keen scrutiny of Mr Duterte and his deadly war on drugs.
In a statement, Rappler said: "This is a victory not just for Rappler but for everyone who has kept the faith that a free and responsible press empowers communities and strengthens democracy."
It added: "We share this with our colleagues in the industry who have been besieged by relentless online attacks, unjust arrests and detentions, and red-tagging that have resulted in physical harm. We share this with Filipinos doing business for social good but who, like us, have suffered at the hands of oppressive governments."
"The acquittal speaks extremely well of our judicial system. It sends a strong message that the rule of law prevails in the Philippines even against the most powerful forces of government," Francis Lim, lead counsel of Rappler and former Philippine Stock Exchange president, said.
The Philippines is ranked 132 out of 180 countries in the World Press Freedom Index, describing its media as "extremely vibrant despite the government's targeted attacks and constant harassment" against journalists that are "too critical".
Additional reporting with agencies.
Join our commenting forum
Join thought-provoking conversations, follow other Independent readers and see their replies