North Korea reveals first operational tactical nuclear-armed attack submarine
The submarine is named 'Hero Kim Kun Ok' after a North Korean historical figure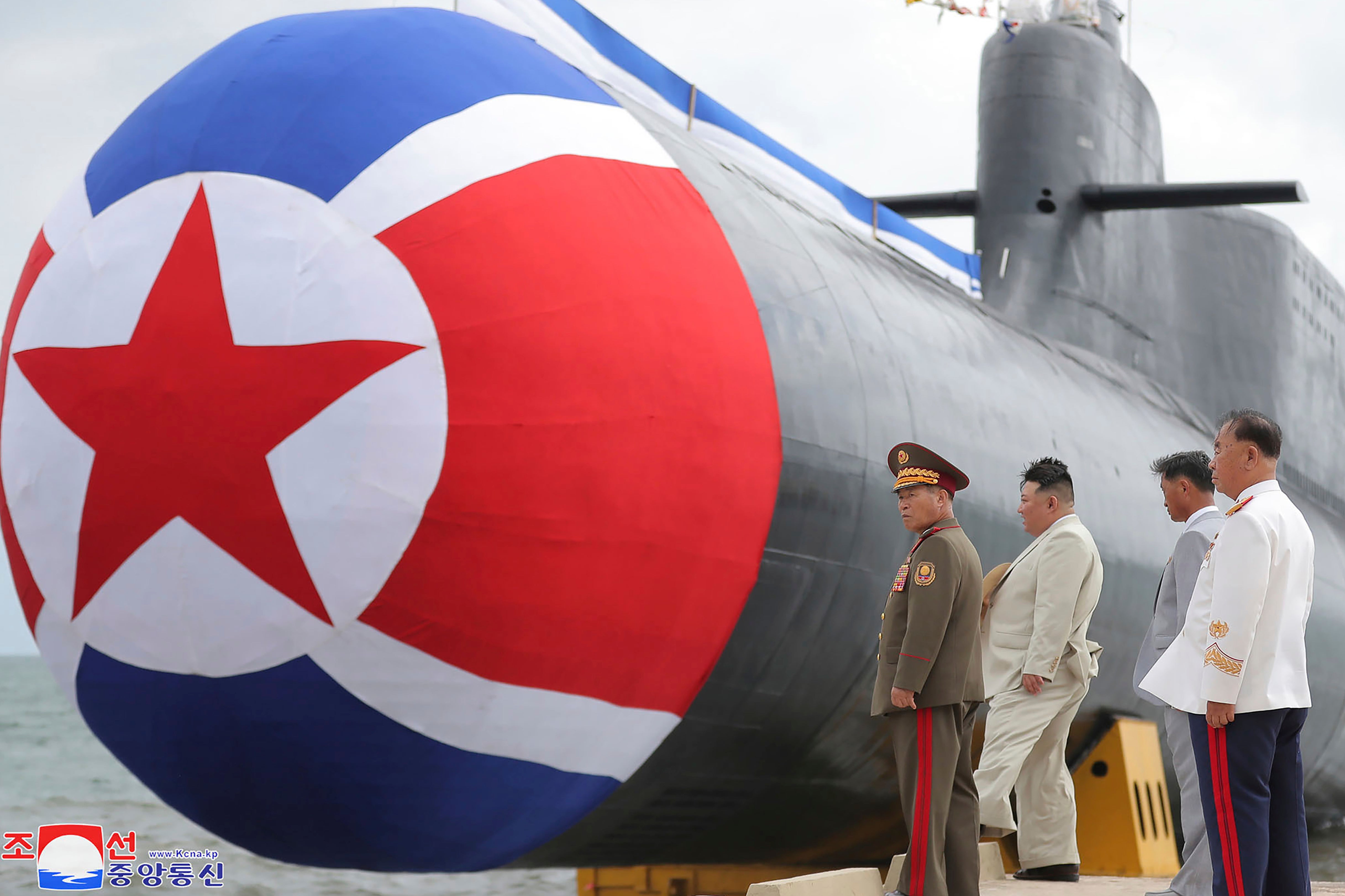 North Korea claims to have launched its first operational "tactical nuclear attack submarine", unveiled by leader Kim Jong-un on Friday to "bolster" the country's naval force capabilities.
Named "Hero Kim Kun Ok" after a North Korean historical figure, Mr Kim said the submarine number 841 will be one of North Korea's main "underwater offensive means of the naval force".
The vessel, he said, was "equipped with a large number of nuclear delivery means" and can carry out "preemptive and retaliatory strikes against hostile countries".
Its neighbour South Korea, however, warned the claims could be exaggerated.
Mr Kim said arming the North Korean Navy with nuclear weapons is an urgent task as he vowed to bolster the current inventory with more underwater and surface vessels equipped with tactical nuclear weapons for the naval forces, reported state media KCNA, as he indirectly spoke of recent "aggressive moves".
"Achieving a rapid development of our naval forces is a priority that cannot be delayed given the enemies' recent aggressive moves and military acts," he said without directly mentioning the US and South Korea but referring to the joint drills carried out in the Korean peninsula.
Other existing submarines will be converted into nuclear armed vessels and North Korea will accelerate its push to eventually build nuclear-powered submarines, the top leader said.
Photos of the submarine released by the state media show a lengthy black vessel with a tower jutting out of the top of the hull in its rear. The expanded hull carries 10 vertical launch tubes, four large and six small for submarine-launched ballistic missiles (SLBMs) and submarine-launched cruise missiles (SLCMs), possibly to fire ballistic and cruise missiles which it has already test-fired.
Choi II, a retired South Korean submarine captain, pointed out that the "tactical" submarine does not carry SLBM that can reach the US mainland but is rather a host for shorter-range projectiles.
It is not immediately clear if North Korea has developed miniaturised nuclear warheads it will need for the submarine.
The vessel appears to be a modified Soviet-era Romeo-class submarine, acquired from China in the 1970s and domestically produced by Pyongyang after.
The South Korean military cautioned that the vessel did not appear ready for its normal operations and there were clear signs of the North attempting to exaggerate its capabilities.
Japanese chief cabinet secretary Hirokazu Matsuno, however, warned "North Korea's military activity is posing a graver and more imminent threat to our country's security than before".
This reveal from a "sort of hard-headed military standpoint doesn't make a lot of sense", said Vann Van Diepen, a former US government weapons expert working with the 38 North project in Washington.
Such weapons won't add much value to the North's more robust land-based nuclear forces, because the ageing submarines used as the core of the new design are relatively noisy, slow and have limited range, meaning they may not survive as long during a war, he said.
"When this thing is field deployed, it's going to be quite vulnerable to allied anti-submarine warfare."
Join our commenting forum
Join thought-provoking conversations, follow other Independent readers and see their replies