'Very high number of casualties' as fire engulfs apartment block in Hanoi, Vietnam
Images show firefighters working to put out a massive blaze in which more than 70 have been rescued so far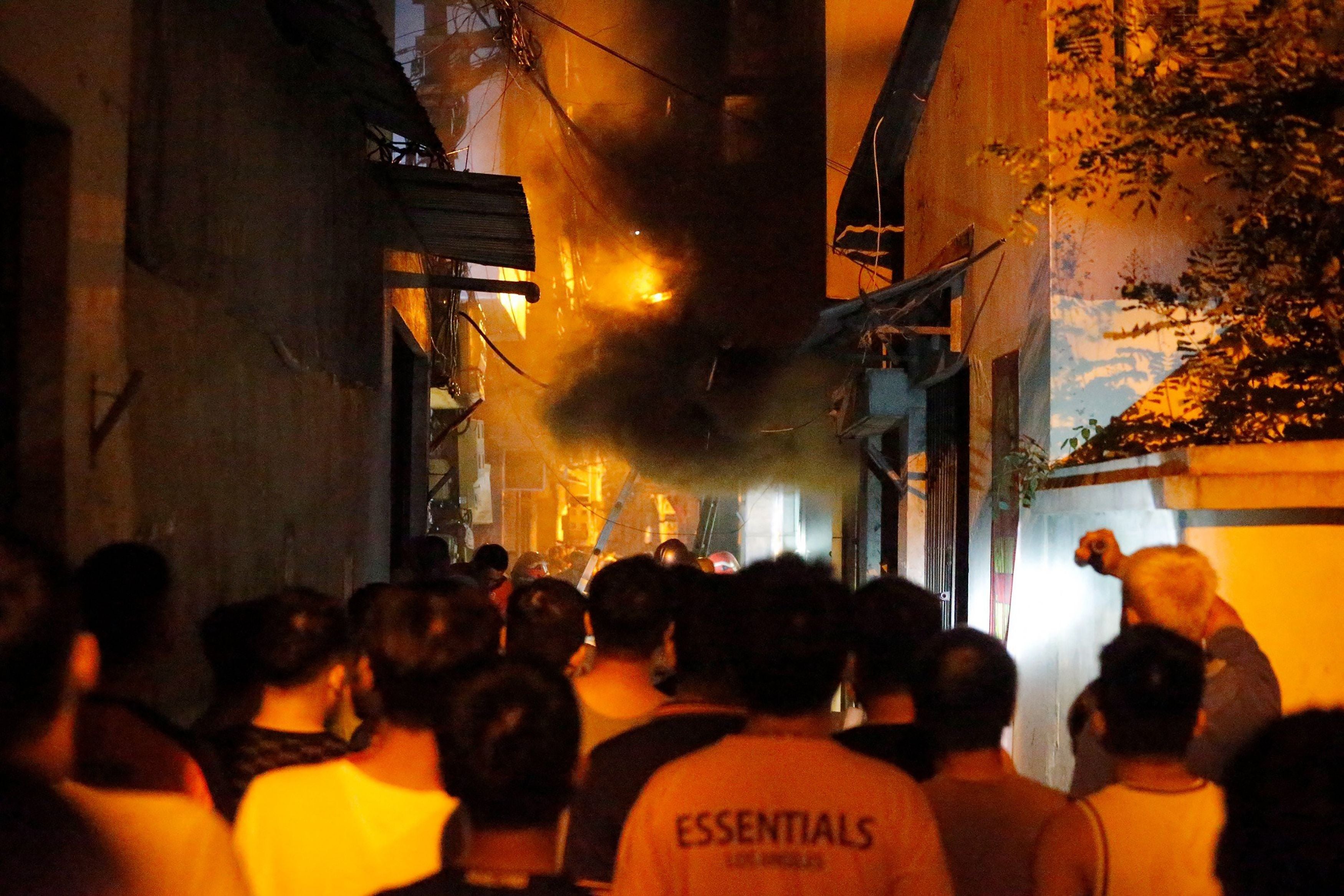 A fire at an apartment block in Hanoi, the capital of Vietnam, is feared to have killed many, according to state media reports on Wednesday.
The fire broke out in the middle of the night at an apartment block where approximately 150 people reside, according to the official Vietnam News Agency.
Witnesses reported that the fire began shortly before midnight on Tuesday on the parking floor of a 10-storey building. The area was reportedly densely packed with residents' motorbikes at the time.
"Authorities have rescued about 70 people, rushing to hospital 54 people, including dozens of dead," the official Vietnam News Agency reported.
"This is a very serious fire," the report, cited by AFP said.
The blaze reportedly occurred in Hanoi's Khuong Ha street in the Thanh Xuan district. On Wednesday morning, the fire was out but rescuers were continuing their efforts to search for the survivors.
Reuters reported that the television images showed firefighters equipped with hoses and ladders at the scene of fire during the nighttime, while a thick, dark column of smoke seen billowing from the building during daytime.
An investigation into the cause of the fire has been launched.
The official death toll is yet to be announced. However, there were some reports indicating that it was more than a dozen.
Deputy minister of public security, Le Van Tuyen was quoted as saying by local news outlet, Dan Tri, that "the number of casualties in the mini apartment fire is very high".
Dr Dao Xuan Co, director of the Bach Mai Hospital where at least 24 people are receiving treatment said the patients suffered from carbon monoxide poisoning.
Some who jumped out of the building suffered multiple injuries and are currently receiving treatment, the director said.
"We could not help them much," said Hoa, a woman who was identified by the news agency by her first name only and who lives near the apartment block.
"The apartment is so closed with no escape route, impossible for the victims to get out."
Vietnam's prime minister Pham Minh Chinh has called for an investigation into the cause of the fire and sent condolences to the families of the victims.
The prime minister also said reviews of buildings with high fire risks, especially those that are densely populated, should be carried out regularly, reported news website Vietnam Net News.
This incident comes almost a year after 32 people lost their lives in a karaoke bar fire in Thuan An city of Binh Duong province.
Workers and customers were trapped by the blaze that tore through the second floor of the multi-storey building. The fire had quickly spread forcing revellers in the packed bar to jump from the windows.
While some people had suffered injuries after jumping from the upper floors, others suffered asphyxiation.
Authorities said there were at least 60 people inside the karaoke parlour when the fire had spread.
Additional reporting with agencies
Join our commenting forum
Join thought-provoking conversations, follow other Independent readers and see their replies