An 18-year-old man was arrested at the Denver International Airport last week as he allegedly attempted to travel to Iraq to fight for ISIS, the Department of Justice said Monday.
Davin Daniel Meyer was arrested by the FBI's Denver Field Office on Friday as he attempted to catch an international flight, the agency stated. Meyer allegedly pledged his allegiance to the leader of ISIS and intended to fight with the terrorist group in Iraq, but instead appeared in federal court Monday.
The arrest warrant for Meyer relied on someone he knew, who contacted Douglas County police in June 2022. The source told investigators that Meyer was previously a White supremacist, then began to practice Islam. He was allegedly later radicalized by online content and claimed to want to kill himself and others.
ISIS SUPPORTER WHO PLANNED MASS SHOOTING IN FLORIDA SENTENCED TO 18 YEARS: 'DANGER TO THE UNITED STATES'
NEW YORK MAN WHO ACTED AS ISIS RECRUITER SENTENCED TO LIFE IN PRISON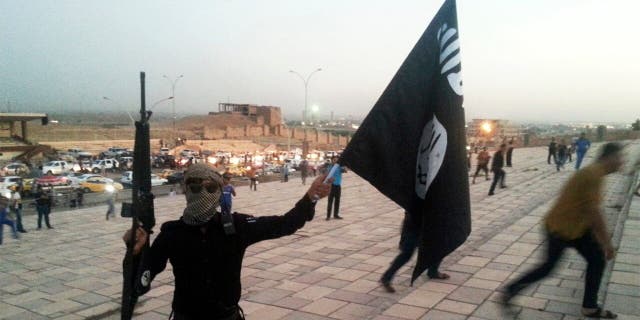 A fighter of the Islamic State of Iraq and the Levant holds a flag and a weapon on a street in the city of Mosul, June 23, 2014. (Reuters Photo)
Meyer attended an "eight-month-long camp between 2021 and 2022 that focused on mental health and behavior treatment," according to the affidavit. He was diagnosed with "autism spectrum disorder; attention-deficit hyperactivity disorder; adjustment disorder with mixed anxiety and depressed mood; specific learning disorder with impairment in mathematics; and major depressive disorder, recurrent episode, moderate."
Meyer cited his religious beliefs to refuse medications for his mental disorders.
The FBI Denver Field Office is investigating the case along with the Douglas County Sheriff's Office.