Arnold Schwarzenegger is willing to fill more potholes in the city of Los Angeles.
The 75-year-old actor went viral last week when he shared a video of him filling a pothole in his Brentwood neighborhood after becoming frustrated that it was "screwing up cars and bicycles for weeks." The move caused controversy with the City of Los Angeles. A city spokesperson later said it was "not a pothole" but a "utility trench" for ongoing repair work being conducted by SoCalGas.
In an interview with Fox News Digital, the former California governor brushed off the controversy and said he would be happy to help out with road work in LA again.
"I was very happy that I could help the city to fix some of those dangerous potholes," "The Terminator" star said Friday at a celebration event for the installation of the 4-acre solar rooftop on the AltaSea warehouse in the Port of Los Angeles.
ARNOLD SCHWARZENEGGER FILLS IN NEIGHBORHOOD POTHOLE HIMSELF AFTER 'WAITING' FOR THREE WEEKS: 'THIS IS CRAZY'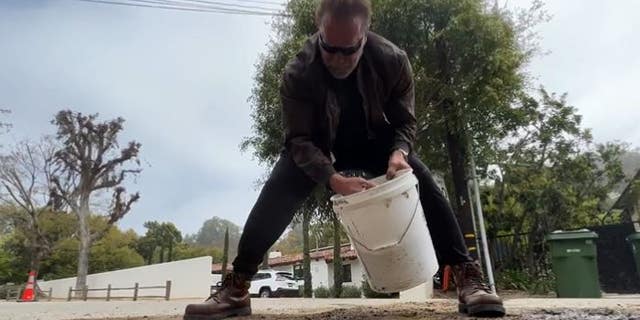 Arnold Schwarzenegger would be happy to fill more potholes in Los Angeles. (Arnold Schwarzenegger/Twitter)
"And I was very happy that the city was appreciative, and they came out to inspect my work and agreed that it was great work.
"And, you know, I told them, told [Bureau of Street Services] that if they need more help, I'll get a crew together and go around the city and fix those potholes because they're dangerous.
"It's all kind of, like, let's help each other. It was a fun thing to do. I love doing things like that. It took me back to the '70s when I was doing construction work, and I was on top of my bodybuilding career and still didn't make any money. I was a bricklayer and cement worker. So it took me back to those days."
The Austria native is one of the most famous and decorated bodybuilders in the world. In 1963, he launched his professional bodybuilding career at the age of 16 and won five Mr. Universe titles and seven Mr. Olympia titles before retiring in 1980 to pursue acting.
Schwarzenegger became one of the biggest action stars of the '80s and '90s. The longtime Republican served as the 38th governor of California from 2003 to 2011. He made his acting comeback in the 2012 movie "The Expendables 2," starring alongside Sylvester Stallone and Bruce Willis. The trio previously worked together when Schwarzenegger made a cameo in 2010's "The Expendables."
In February, Willis, 68, was diagnosed with frontotemporal dementia, months after retiring from acting due to a diagnosis with aphasia.
Schwarzenegger told Fox News Digital he hadn't yet spoken to Willis during his former co-star and friend's health struggles.
"I think Bruce is very secluded, but I haven't had a chance to talk to him yet," he said.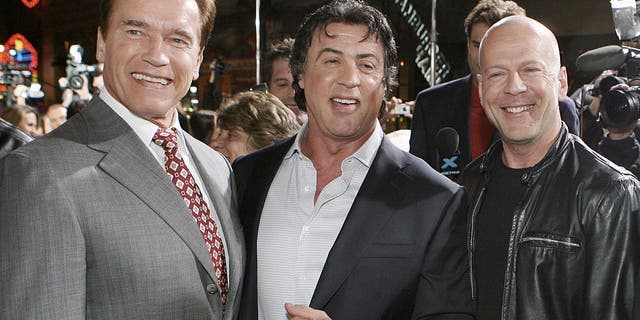 Schwarzenegger said he hadn't yet spoken to his "The Expendables 2" co-star and friend Bruce Willis, who was diagnosed with frontotemporal dementia in February. (E. Charbonneau/WireImage for MGM)
Schwarzenegger will soon be seen in his first regular scripted television role. He is starring in the Netflix action-comedy series "FUBAR," which was inspired by his hit 1994 movie "True Lies."
"When a father (Schwarzenegger) and daughter (Monica Barbaro) learn that they've each secretly been working as CIA operatives for years, they realize their entire relationship has been a lie, and they truly don't know one another at all," a plot synopsis "FUBAR" states.
"Forced to team up as partners, the series tackles universal family dynamics set against a global backdrop of spies, action and humor."
In his interview with Fox News Digital, Schwarzenegger indicated he was more than ready to get back into action.
"Well, remember, older people don't retire. They just reload," he said.
The former pro athlete also shared his regimen for staying in top shape as he has aged.
MAN'S WEIGHT LOSS JOURNEY, POSITIVE OUTLOOK GETS HIM PROPS FROM ARNOLD SCHWARZENEGGER
"I rely a little bit on supplements because, like I said, they're called supplements to supplement really good food," Schwarzenegger said. "So I'm a big believer in good food. I've cut down my meat intake considerably by 70% or so.
"I still eat every so often — a steak or Wienerschnitzel — but I think it's much healthier when you get to my age to eat plant-based foods," he added. "And so I think the doctors are right to kind of recommend to me to just cut down on meat. And also from an environmental point of view, I have to say that it creates 28% of the pollution raising all this livestock. So I think if you cut [a] little bit back on that, it will be also very helpful to our environment."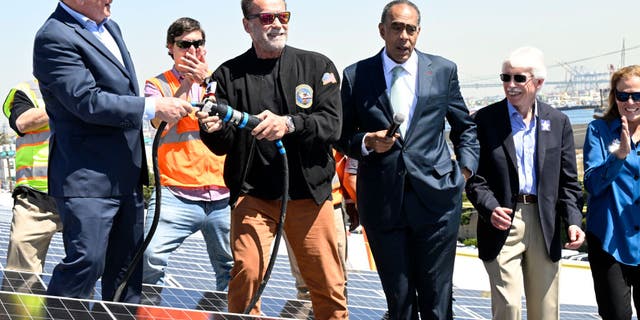 Schwarzenegger spoke to Fox News Digital at the celebration of the 4-acre solar rooftop on the AltaSea warehouse at the Port of Los Angeles in San Pedro Friday. (Brittany Murray/MediaNews Group/Long Beach Press-Telegram via Getty Images)
While at the event, Schwarzenegger joined AltaSea CEO and President Terry Tamminen to energize the solar panel installation that will power the blue technology hub's 35-acre campus and provide excess energy to the grid.
At the beginning of his term in the governor's office, Schwarzenegger appointed Tamminen as secretary of the California Environmental Protection Agency. They teamed up on several environmental initiatives, including California's Global Warming Solutions Act of 2006, the Hydrogen Highway Initiative and the Million Solar Roofs Initiative.
The two sat down for a "fireside chat" in which Schwarzenegger praised Tamminen and AltaSea for the testing and development that the institute has conducted to provide clean energy solutions. He also marveled about the construction of the 4-acre solar roof.
ARNOLD SCHWARZENEGGER TEAMS UP WITH 'TOP GUN' STAR, TELLS FANS, 'I'M BACK, BABY'
"Think about it — 180,000 square feet, 4 acres of solar," Schwarzenegger said. "I was just blown away when Terry was telling me that. I cannot wait to go up the stairs and the steps and to go look at it myself, because this is exactly what we need to do all over the state of California. They've shown us that we can do it."
During their discussion, Schwarzenegger also recalled meeting Tamminen through his in-law Robert F. Kennedy Jr., who recently announced he was running against President Biden for the 2024 Democratic presidential nomination.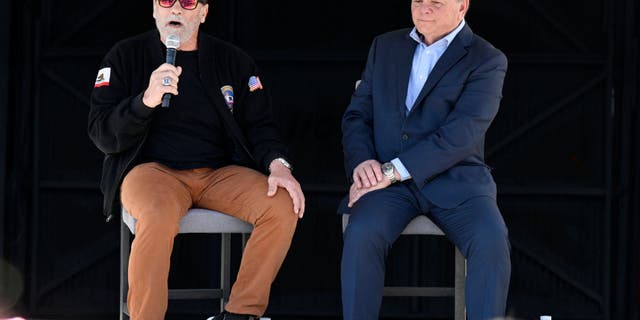 Schwarzenegger and AltaSea CEO and President Terry Tamminen (Brittany Murray/MediaNews Group/Long Beach Press-Telegram via Getty Images)
"To be very honest with you, I did not run for governor to protect the environment," Schwarzenegger said. "I did not think about the environment when I ran for governor first. Then I announced. But then I got a phone call from Bobby Kennedy Jr., a Democrat, one of my in-laws, and he said, 'Arnold, I want to help you.'
"By the way, he's running for president now," Schwarzenegger said of Kennedy. "So, anyway, I wish him good luck.
CLICK HERE TO SIGN UP FOR THE ENTERTAINMENT NEWSLETTER
"But the thing is that he called me and said, 'Arnold, I want to help you. It's great that you're running for governor. Takes a lot of balls to do that. I come from a family that people are running all the time.' He says, 'That takes a lot of guts.'"
Schwarzenegger remembered that Kennedy introduced him to Tamminen after describing him as the "No. 1 expert in the environment."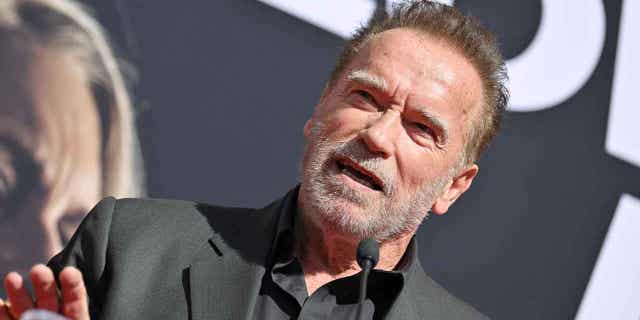 Arnold Schwarzenegger attends the Jamie Lee Curtis Hand and Footprint Ceremony at TCL Chinese Theatre Oct. 12, 2022, in Hollywood, Calif. (Axelle/Bauer-Griffin/FilmMagic)
During their meeting, Schwarzenegger recalled that Tamminen told him, "'Arnold, you can become governor of the great state of California, but you got to include in your vision the environment. That's really how it happened. So, originally, I didn't think about the environment. I was never an environmentalist, nothing. But this man here told me of how important it is to protect our environment. And he taught me everything that I know about the environment.
CLICK HERE TO GET THE FOX NEWS APP
"And after listening to him, I said, 'We are going to campaign and make this part of our campaign to protect the environment.' And then when I became governor, I kept my promise and said, 'Terry, you will become the secretary of the EPA. And together we're going to really create 50% of renewables, and we will do the Million Solar Roofs [Initiative]. And we're going to reduce greenhouse gases, and we're going to do all of those kinds of things that we promised in the campaign. And that's exactly what we did together."