Arkansas Razorbacks head coach Sam Pittman is always good for a quality quote or two, and the fourth-year head coach did not disappoint Wednesday at SEC Media Days.
After beating No. 23 Cincinnati in the opening game of the 2022 college football season, Pittman was asked what his "drink of choice" was to celebrate the victory.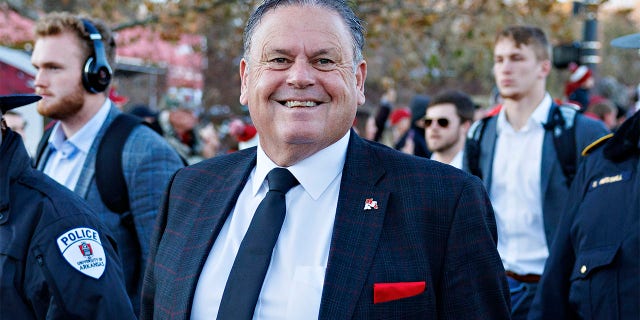 Head coach Sam Pittman of the Arkansas Razorbacks walks to the stadium before a game against the Mississippi Rebels at Donald W. Reynolds Razorback Stadium on November 19, 2022, in Fayetteville, Arkansas. (Wesley Hitt/Getty Images)
"I'm not promoting it, but I like some old cold beer," Pittman said. "I think I'm going to have one – not promoting it now."
SEC WON'T TREAT 'HORNS DOWN' GESTURE AS AUTOMATIC UNSPORTSMANLIKE PENALTY, COORDINATOR OF OFFICIALS SAYS
CLICK HERE FOR MORE SPORTS COVERAGE ON FOXNEWS.COM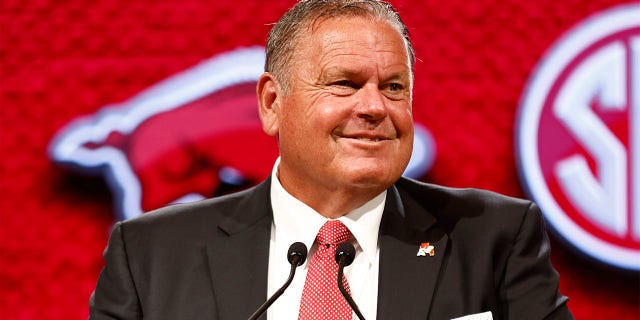 Head coach Sam Pittman of the Arkansas Razorbacks speaks during SEC Media Days at Grand Hyatt Nashville on July 19, 2023, in Nashville, Tennessee. (Johnnie Izquierdo/Getty Images)
Pittman is hoping for a few more reasons to celebrate during the 2023 college football season after the Razorbacks went 7-6 in 2022.
Arkansas quarterback KJ Jefferson returns for his senior season, as does junior running back Raheim Sanders.
"I think it's going to be his best season he's had," Pittman said Wednesday of Jefferson. "Whether we run him quite as much as we have in the past, I don't know that. Maybe we throw the ball a little bit more than with him carrying it. We have to keep him healthy."
FORMER IOWA HAWKEYES OFFENSIVE LINEMAN CODY INCE DEAD AT 23
"I think he's going to be very active, but he's probably going to throw the ball a little bit more than what he has in the past," Pittman added.