A left-leaning watchdog group on Wednesday announced a settlement of over $150,000 in a public records lawsuit against the Arizona Senate, which fought to withhold emails, texts and other records involving a partisan audit of the 2020 election.
American Oversight, which promotes government transparency, will receive $153,000 from the state Senate. According to the agreement that both parties initially signed in March, they will mutually release each other from legal claims. The agreement also specifies that the settlement is not an indication of any wrongdoing.
The litigation also extended to Cyber Ninjas, the now defunct Florida-based firm that led the Senate's review of ballot counting machines, computers and ballots in Maricopa County.
PHILADELPHIA POLITICAL CONSULTANT PLEADS GUILTY TO FORGING SIGNATURES FOR DEMOCRATS
Shortly before the settlement agreement was signed, lawyers for The Arizona Republic argued that some of the records being withheld by the Senate should still be made publicly available.
The whole ordeal was worthwhile for "having succeeded in bringing much-needed transparency" to the audit, American Oversight said in a statement.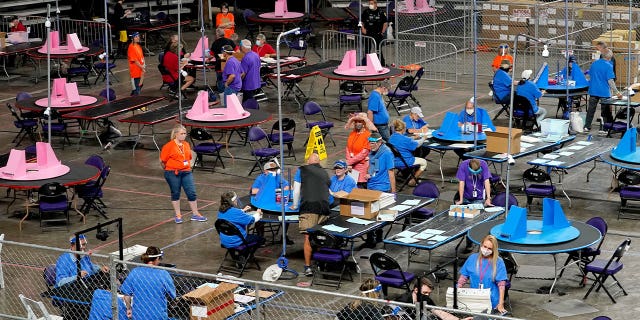 Contractors working for Cyber Ninjas examine and recount 2020 general election ballots for Maricopa County, Arizona, on May 6, 2021. The Arizona Senate agreed to pay $150,000 to American Oversight to settle a public records lawsuit. (AP Photo/Matt York, Pool,File)
Kory Langhofer, an attorney for the Senate, did not immediately return a voice message seeking comment.
In 2021, the Republican-led Senate initiated a review after Joe Biden was declared the winner in Arizona over then-President Donald Trump, triggering unfounded accusations of fraud and other election conspiracies.
BALLOT PROBLEMS IN PENNSYLVANIA'S LUZERNE COUNTY EXAMINED
American Oversight filed a lawsuit shortly after.
Between various lawsuits and court orders, the Senate released more than 20,000 records. But lawmakers also held onto some documents, justifying it as legislative privilege.
CLICK HERE TO GET THE FOX NEWS APP
The Arizona Supreme Court in August sided with the Senate, ruling that emails and other documented communications were privileged.
The Senate review found no evidence of widespread fraud in Maricopa County's elections operations.