There's a new hygiene question trending on social media, and this time it's about how often people are washing their bath towels.
People have been posting the question on Twitter, Facebook, TikTok and Reddit to see if family and friends will share their laundering routine.
Answers provided by public accounts vary with some claiming they wash their bath towels daily, every other day, weekly or monthly.
VIRAL HOUSE CLEANING VIDEOS ARE SATISFYING BILLIONS ON TIKTOK
So, which timeframe is best? Cleaning experts revealed their responses to Fox News Digital.
Here's what you need to know when it comes to washing bath towels to minimize the chance of harmful bacteria buildup.
How often are you using your bath towels?
Stefan Bucur, the founder and owner of a Texas-based cleaning and organization service, Rhythm of the Home, told Fox News Digital that a number of factors come into play when determining how often one should wash their bath towels.
"The frequency you should wash your bath towels depends on how often the towels are used, the level of humidity in the bathroom and your personal preferences and habits," said Bucur, who's from Lewisville, Texas.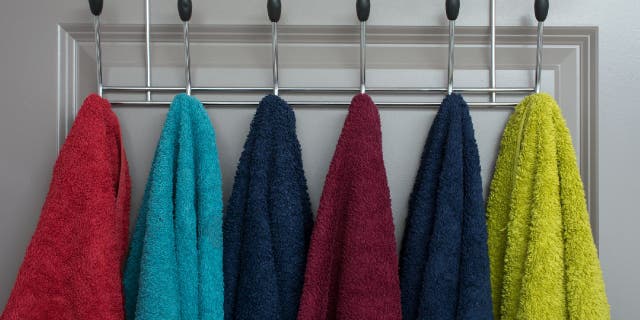 Bath towels should be hung up to air dry after each use to limit bacteria buildup. (iStock)
To keep bacteria and potential mold in check, Bucur said a person can generally get six to seven uses out of a bath towel before having to wash it again. This could mean every three or so days if a person bathes or showers two times per day or up to a week if a person bathes or showers daily.
DENTISTS REVEAL WHY YOU SHOULDN'T BRUSH YOUR TEETH IN THE SHOWER
"Since bath towels are typically used in warm and moist environments, your best bet to reduce the number of washing cycles they go through is to ventilate your bathroom properly or let them dry outside the bathroom," Bucur explained. "That way you reduce the chance of developing bacteria or mold on them, and you get to save money on detergent and electricity by having to wash them less frequently."
Bucur recommends people hang wet bath towels to dry instead of letting them roll up in a pile on the floor. The latter "is the fastest way to grow mold and bacteria," he said.
Consider a 3-day rule for bath towels
Anna Brakefield, a co-founder of Red Land Cotton, an Alabama-headquartered linen company, told Fox News Digital that launderers should set a three-day rule for their bath towels.
"We tell our customers to 'think in threes' when it comes to knowing when to wash your towels," she said. "Wash your towels either every third use or every 3rd day — whichever comes first."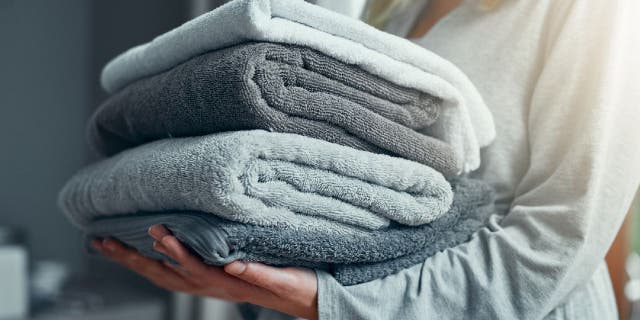 Microbiologists and some cleaning experts recommend washing bath towels every three days or after three uses. (iStock)
"Hand towels are the exception to this rule, they should be used for one day before being washed," Brakefield continued. "These are the best practices for ensuring you don't have lingering bacteria on your fibers."
TOILET TIME: IS YOUR MOBILE DEVICE AFFECTING HOW LONG YOU'RE IN THE BATHROOM? EXPERTS REVEAL HEALTH RISKS
Parima Ijaz, the founder and CEO of Pure Parima, an Egyptian cotton linen company based in New Jersey, agrees that bath towels should get three uses to keep bacteria to a minimum.
"Dead skin cells are transferred onto the towel every time it's used," Ijaz told Fox News Digital. "It's extremely important to make sure you are washing it routinely and taking into account how often you are using it."
Available microbiology studies on the frequency of towel washing are limited, but many researchers have gone on the record to say bath towels can be switched every three days or after three if bacteria buildup is a concern.
A 2021 "Laundry Hygiene and Odor Control: State of the Science" report published by the American Society for Microbiology, a professional life science organization, found that various microbes such as pathogens, bacteria, fungi, protozoa, viruses and helminths, can live on bath towels for days and weeks at a time if conditions remain moist and dark.
When should you replace bath towels?
Andrii Gurskyi, a co-founder of HomeClean, a residential cleaning service in New York City, told Fox News Digital that the longevity of a bath towel ultimately depends on its manufactured quality and frequency of use.
"Generally, if your towels start to smell or feel rough to the touch, it's a sign that they need to be replaced," Gurskyi said.
HOW MANY TIMES A WEEK SHOULD YOU WASH YOUR HAIR? IT DEPENDS, EXPERTS SAY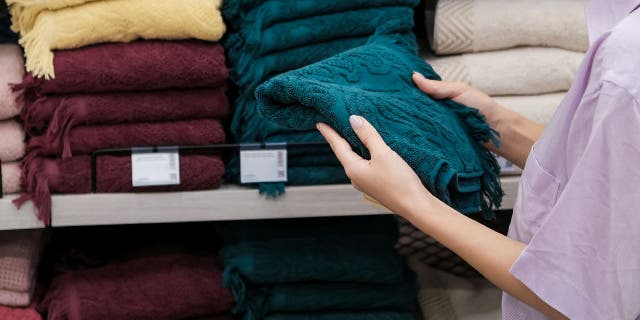 The longevity of a towel depends on its quality and how it's cared for, experts say. (iStock)
Brakefield told Fox News Digital that a "good quality" bath towel can last several years if it's taken care of properly.
"To reduce [detergent] buildup, we recommend a cup of white vinegar in your rinse water every time you wash your towels," she added. "This should break down the soap buildup and also sanitize your towels in the process without damaging heat."
A medically reviewed article published by Healthline, a health information news website, notes that distilled vinegar, white vinegar and apple cider vinegar can be used as a laundry cleaning aid.
"Vinegar works by loosening zinc salts or aluminum chloride, which means that dirt won't stick to your clothing," Healthline reported. "In addition to this, vinegar has antibacterial properties."
SHOULD YOU DRINK WATER BEFORE BED? EXPERTS CHIME IN
How to wash bath towels?
Laundry instructions on bath towels can vary depending on the material it's made out of, so following the wash recommendations printed on bath towel tags and detergent bottles will be most helpful.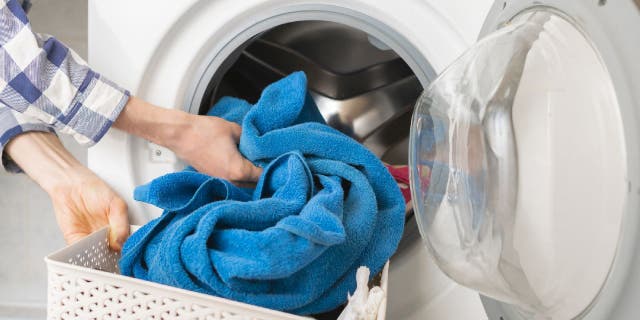 Different bath towels may have their own wash instructions and temperature recommendations depending on the materials each towel is made with. (iStock)
But cleaning experts have wash-day tips that can help you make sure your towels are cleansed well.
Consider using borax and choose the right temperature.
Bucur told Fox News Digital that he recommends laundry detergents that contain borax, a colorless crystaline salt that's known to "kill bacteria and stunt mold growth," for bath towel washing.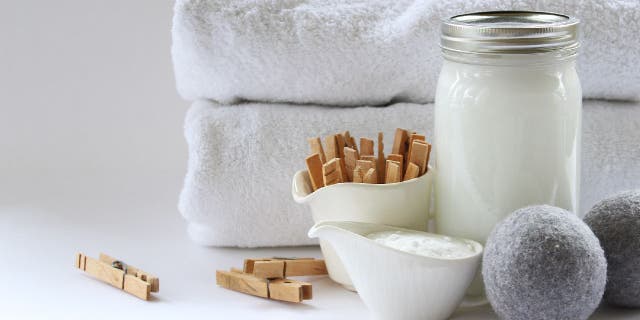 Powdered laundry borax can help remove bacteria and stains from bath towels and other linens. (iStock)
"Detergents that contain borax, like Oxiclean and Clorox, are especially efficient for your bath towels, and they will preserve the softness of your bath towels without making them too rough to the touch like bleach normally would," Bucur said.
"If you feel like your towels are not clean enough when they come out of the washing machine you can try washing them in hot water [that's] at least 140 degrees Fahrenheit to increase the chance of killing germs," he continued.
DO YOU KNOW HOW TO DEEP CLEAN YOUR KEURIG?
Gentler fabrics, such as linen and silk, may require lower wash temperatures, according to professional laundry handlers and cleaners.
Bucur also noted that he doesn't recommend the use of fabric softeners or dryer sheets on your bath towels because these two laundry products can leave a residue that can reduce the absorbency of the towels.
Be careful with bleach. 
"Since towels can trap bacteria more than other items you normally wash, heavy-duty detergents are helpful to make sure you are thoroughly washing them and removing any possible bacteria buildup," Ijaz told Fox News Digital.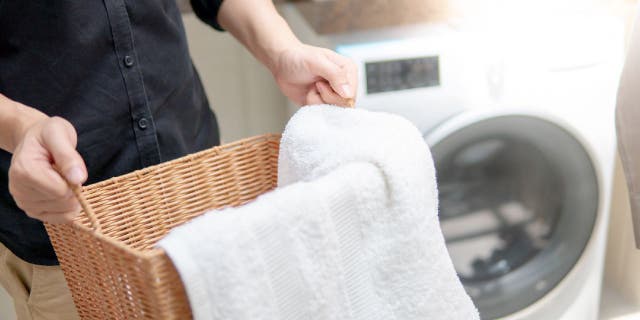 Bleach can be used on white bath towels, but towel owners should beware of how much they're using for each wash cycle. (iStock)
"Bleach is OK for towels if you are trying to remove tough stains," Ijaz added. "This can actually help make your white towels whiter."
CLICK HERE TO SIGN UP FOR OUR LIFESTYLE NEWSLETTER
For patterned or colored towels, bleach is usually not the right option because excess use of the diluted sodium hypochlorite liquid can strip dye, cause stains and lessen the absorbency of towels, according to Ijaz.
Wash bath towels with other towels.
Brakefield told Fox News Digital that bath towels should only be washed with other towels.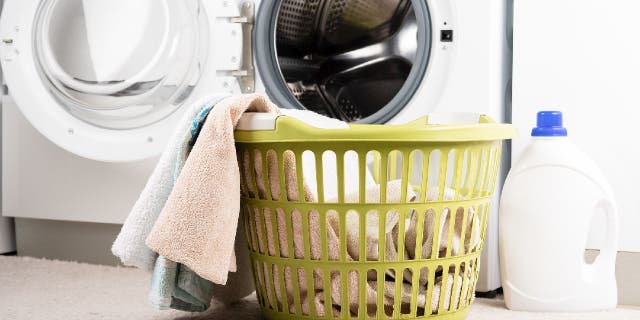 Bath towels can be washed with washcloths, hand towels, decorative towels, kitchen towels and beach towels. (iStock)
"Washing your towels with the rest of your laundry can create a lot of strain and wear on your sheets," she explained. "Overloading the washer will also make it easier for towels to become tangled on the agitator which also wears sheets out more."
Keep your toilet seat down when flushing and wash hands thoroughly.
Aside from washing bath towels, there are other hygiene-related precautions people should take to limit the growth of harmful microbes.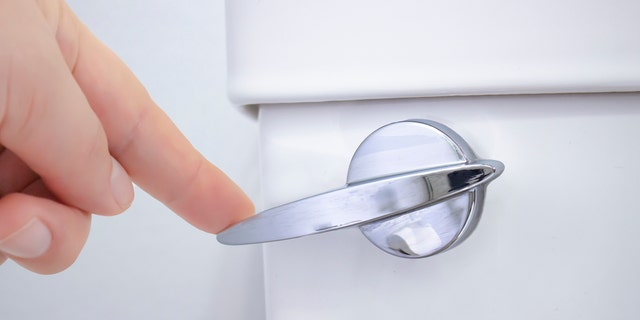 Many microbiologists recommend keeping toilet seat lids down when flushing based on studies that examine bacteria spread in bathrooms. (iStock)
Microbiology researchers have found that keeping a toilet seat down when flushing can reduce the number of bacteria-filled droplets, such as E. coli and fecal particles, from being propelled by 30 to 60% mid- and post-flush, as noted in a 2019 report published by the Microbiology Society, a global membership-based microbiology science organization and charity.
FOLLOW US ON FACEBOOK FOR MORE FOX LIFESTYLE NEWS
"Flushing causes a plume of bacteria to spread throughout the bathroom, which can land on your towels, toothbrushes and other surfaces," Gurskyi told Fox News Digital.
In addition to keeping toilet seats down to protect bathroom products and surfaces, Gurskyi recommends handling towels with clean hands.
"It's crucial to wash your hands for 30 seconds or more to prevent the spread of germs," he said.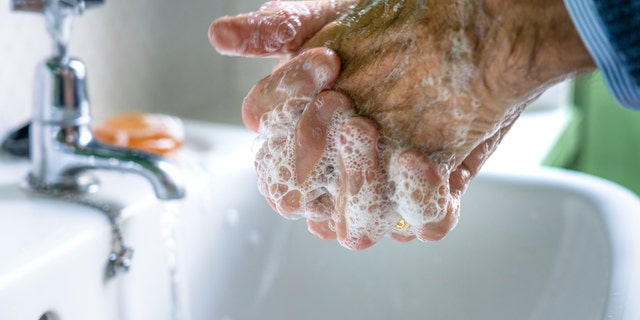 Health experts recommend washing hands for 20 seconds or more to ensure clean hands. (iStock)
CLICK HERE TO GET THE FOX NEWS APP
Handwashing recommendations published by the U.S. Centers for Disease Control and Prevention state that people should cleanse their "hands with soap and water for at least 20 seconds" or "an alcohol-based hand rub that contains at least 60% alcohol" if soap and water aren't available.