A top Anheuser-Busch executive spoke candidly about the backlash the company received after Bud Light partnered with trans influencer Dylan Mulvaney.
The beer giant's global chief marketing officer Marcel Marcondes appeared at the Cannes Lions International Festival on Monday and addressed the boycott movement that caught fire earlier this year after Mulvaney promoted Bud Light on social media.
"It's tough to see the controversial and divisive debates that have been happening in the U.S. in the last couple of weeks involving lots of brands and companies, including and especially Bud Light," Marcondes said, according to a report from AdAge. "It's tough exactly because what we do is all about bringing people together."
EXPERTS BREAK DOWN HOW BUD LIGHT LOST ITS TOP-SELLING BEER STATUS: 'BETRAYAL'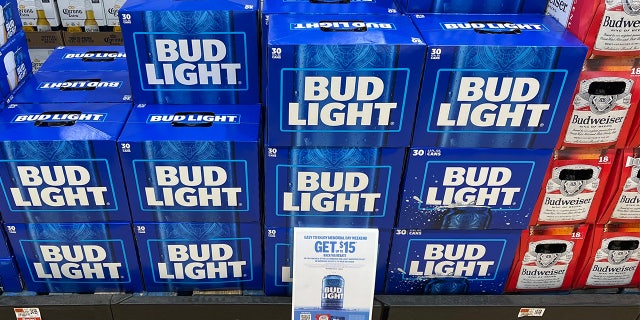 Sales for Bud Light had gotten so bad that the beer giant offered a $15 rebate for a $19.99 case.  (Alexa Moutevelis/Fox News Digital)
Marcondes went on to insist that the beleaguered Bud Light will make a comeback, saying it's a brand that should bring people together.
BUD LIGHT SALESPEOPLE RECEIVING 'MIDDLE FINGERS' AND 'CAR HORNS' AS BOYCOTT PASSES SEVENTH WEEK: REPORT
"That's what Bud Light stands for — it exists to make beer easy to drink and easy to enjoy. That's what we all, as a team, will be doing moving forward as a group. That's what leaders do," Marcondes said. "Bud Light is coming back. It's going all around the country, reconnecting with consumers, moving forward. That's what you can expect from Bud Light in the U.S."
Bud Light lost its status as the top-selling beer in the U.S. as its parent company Anheuser-Busch lost $27 billion in stock value since March.