A 26-year-old self-made billionaire whose company is helping the Pentagon adopt artificial intelligence technology warned this week the Chinese government is spending three times as much as the U.S. government is to become the world's undisputed AI leader.
"The country that is able to most rapidly and effectively integrate new technology into warfighting wins. If we don't win on AI, we risk ceding global influence, technology leadership and democracy to strategic adversaries like China," Alexandr Wang, CEO of Scale AI, told members of the House Armed Services Committee on Tuesday.
"The Chinese Communist Party deeply understands the potential for AI to disrupt warfare and is investing to heavily capitalize on the opportunity," he said.
PENTAGON'S AI PLAN MUST INCLUDE OFFENSE AND DEFENSE UNDER HOUSE-PASSED BILL: 'DOD HAS TO CATCH UP'
Wang, raised by two parents who worked as nuclear physicists at Los Alamos National Laboratory, started his company in 2016 after dropping out of MIT when he was 19. Scale AI was recently valued at more than $7 billion, and Wang told lawmakers that he saw the scale of China's ambition during an investor trip there four years ago.
"China was making rapid progress developing AI technologies like facial recognition and computer vision and using these for domestic surveillance and repression," he testified. "China is investing the full power of its industrial base for AI."
"This year, they're on track to spend roughly three times the U.S. government on AI," he added. "The PLA is also heavily investing in AI-enabled autonomous drone swarms, adaptive radar systems, autonomous vehicles, and China has launched over 79 large language models since 2020."
But while China is gunning to take the lead in the race for AI domination, Wang cited several reasons why the U.S. still has the edge today. He said the U.S. is still the "place of choice" for the world's most talented AI scientists and said America's access to data gives it another important edge.
LAWMAKERS RATTLED BY AI-LAUNCHED NUKES, DEMAND 'HUMAN CONTROL' IN DEFENSE POLICY BILL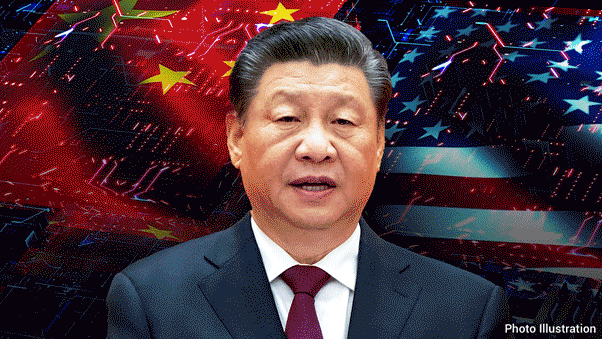 Congress is increasingly worried about China's ability to compete with the U.S. on AI. (getty images)
"I think this is one of the most important things that we can do to set up America for decades and decades of leadership in military use of AI," Wang said.
"I think it would be a stretch to say we're on the same team on this issue," Wang said, noting that China's first instinct was to use AI for facial recognition systems in order to control its people. "I expect them to use modern AI technologies in the same way to the degree that they can, and that seems to be the immediate priority of the Chinese Communist Party when it comes to implementation of AI."