This month, 79 years ago, Allied troops stormed the beaches of Normandy in World War II. The greatest amphibious invasion in human history was a product of unprecedented levels of planning, heroism, sacrifice, and new technology.
Scientists, service members, and industrialists came together to develop and build underwater pipelines, artificial harbors, specialized landing craft, and tide prediction equipment. Everyone had a job to do – and everyone did it as one team in the fight.
Today, America is at a critical period in our strategic competition with China, and technology – especially Artificial Intelligence (AI) – will again play a central role.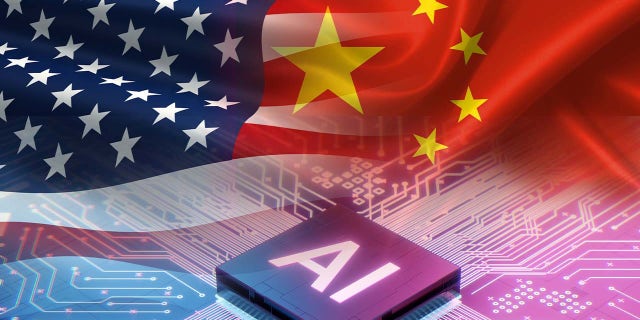 China is aggressively pursuing AI using a whole-of-government, industrial collaboration policy, including research into AI's military applications.
SENATE URGED TO PUNISH US COMPANIES THAT HELP CHINA BUILD ITS AI-DRIVEN 'SURVEILLANCE STATE'
As someone who served on the Cybersecurity Solarium Commission with fellow veteran and chairman of the China Oversight Committee, Congressman Mike Gallagher, R-Wis., we've looked at potentially decoupling America's economy with China.
For example, Microsoft Research Center has boosted China's AI achievements for a quarter-century, developing strategic AI technologies such as computer vision, natural language processing, speech, and intelligent multimedia in China. Microsoft even discloses cybersecurity vulnerabilities in its software to the CCP, which turns around and uses those same vulnerabilities to attack the U.S. government, according to Microsoft's own research.
HOUSE DEMANDS AI UPDATE FROM PENTAGON AS THREATS FROM CHINA, OTHER ADVERSARIES PILE UP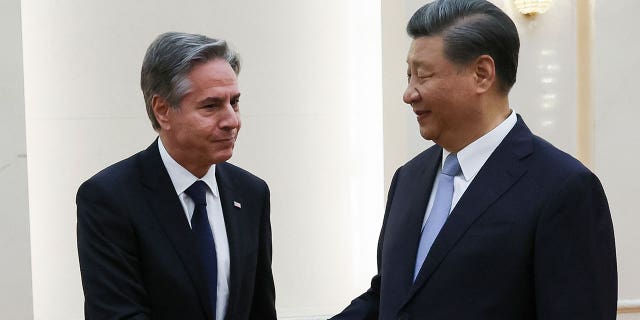 Chinese President Xi Jinping and Secretary of State Antony Blinken shake hands in Beijing, Monday, June 19, 2023. (AP)
We should have no illusions about what China intends to do with advanced technologies like generative AI.
China is aggressively pursuing AI and technological development using a whole-of-government, industrial collaboration policy. This includes research into AI's military applications, particularly in advanced decision-making.
AI DRONE SWARM SHOWS MILITARY MIGHT BUT ALSO QUESTIONS OF WHO HOLDS THE POWER
America, while young and imperfect, understands the moral responsibility that comes with great power. We must keep pace in the AI race in the long term, not just because of the significant investment American taxpayers have made in AI research and development here in the United States, but because our nation is anchored in the core values of freedom and opportunity.
Video
We must reinforce the vibrant, open innovation ecosystem that fuels the American AI advantage and create a seamless public-private sector match as we did during World War II.
CLICK HERE TO GET THE OPINION NEWSLETTER
This is our Normandy moment, and patriotism demands that we're all in on the same side together to make sure that these breakthrough technologies reflect democratic and American values. Those of us who've seen combat don't want our children to fight unnecessary wars, especially against an AI-enabled military that could eliminate America's technological and moral advantage.
The billon Chinese people are good, but the totalitarian regime that governs them will do us harm if given the chance. American tech companies can't continue to allow that to happen.