A Pennsylvania grand jury in recent months accused nine men with connections to the Jehovah's Witnesses of child sexual abuse in what some consider the nation's most comprehensive investigation yet into abuse within the faith.
The sets of charges filed in October and February have fueled speculation the jury may make public more about what it has uncovered from a four-year investigation.
A similar grand jury investigation into child sexual abuse by Catholic priests culminated in a lengthy 2018 report that concluded hundreds of priests had abused children in Pennsylvania over seven decades and church officials had covered it up, and more recently a similar report was issued in Maryland.
But documents made public so far include nothing about what critics have long maintained has been a systemic cover-up and mishandling of child molestation within the Jehovah's Witnesses.
Pennsylvania Attorney General Michelle Henry, at a news conference in February announcing charges, said some of the defendants "even used their faith communities to prey upon the victims."
Asked whether her office was looking into the Jehovah's Witnesses as an organization, Henry replied it was an ongoing investigation.
Critics say church elders have treated child sexual abuse as a sin rather than a crime, carefully documenting cases in internal files but not reporting allegations to authorities and sometimes letting the accused remain active in their congregations with access to children from unsuspecting families. Critics also say the church has often required a second witness for complaints, a standard that can be impossible to meet in cases of molestation.
Church spokesman Jarrod Lopes said otherwise — that the church does recognize abuse as a crime and that members have the right to report sexual assault to authorities. He said the second-witness rule applies only to internal church discipline and that elders comply with reporting laws, even when there is not a second witness.
PENNSYLVANIA MEN ALLEGEDLY USED JEHOVAH'S WITNESS HALL TO 'GAIN ACCESS' TO SEX ABUSE VICTIMS
Dozens of people have testified before the secret grand jury in Harrisburg or provided information to the attorney general's office, and some report that investigators have exhibited keen interest in how the church has responded to molestation allegations.
"They were very interested in not only individual cases but in systemic concerns regarding the reporting of child abuse," said Mark O'Donnell of Parkville, Maryland, a former church member who said he appeared twice before the grand jury.
Martin Haugh of York Haven, Pennsylvania, a former elder who left the church in 2016, said he has spoken for hours to investigators, both inside and outside of the grand jury proceedings, about the structure of the denomination and how it handles cases of child abuse.
Haugh said to his knowledge, this is the first time an investigation of Jehovah's Witnesses has been done on this scale in any U.S. state. Haugh said he's been in regular contact with investigators from Henry's office, most recently in March.
Attorney Matt Haverstick confirmed recently that his law firm is representing Jehovah's Witnesses congregations around Pennsylvania on unspecified matters that are "very active right now."
"I would say if the only place you're looking for records of child sexual abuse is with one organization, then of course all the prosecutions that come are going to be about that one organization," Haverstick said.
"There's nothing unique or particular about this faith that makes it prone to any kind of misconduct," he said.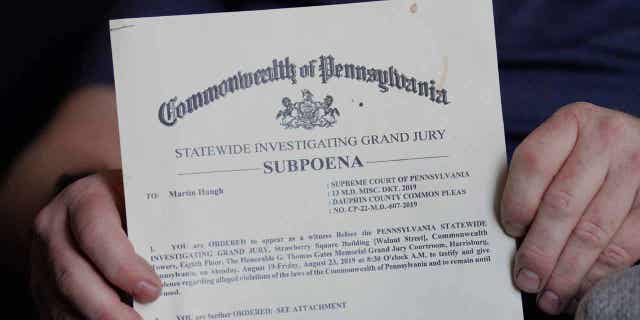 Martin Haugh, a former Jehovah's Witnesses elder and father of a sexual abuse victim, holds a subpoena ordering him to testify in front of a Pennsylvania grand jury, shown on April 12, 2023, in York Haven, Pennsylvania.  (AP Photo/Jessie Wardarski)
The international Christian denomination, founded in the Pittsburgh area more than a century ago and headquartered in New York state, claims 8.7 million members worldwide, including 1.2 million in the United States.
Members will not bear arms, salute a national flag or participate in secular politics. Believers are known for their evangelistic efforts, including knocking on doors and distributing literature in public spaces.
In the Pennsylvania cases, court records state all nine defendants have ties to the Jehovah's Witnesses faith, although in some cases it's unclear how that might relate to the criminal allegations.
Defense lawyer Dan Kiss of Altoona, Pennsylvania, said his client, Robert Ostrander, 57, of Windsor, New York, knew nothing about the investigation before he was charged in October with indecent assault, corruption of minors and other offenses. Kiss said Ostrander denies all the allegations.
"Honestly, this appears to be some sort of attack on their religion," Kiss said. "You have all these Jehovah's Witnesses getting charged with some sort of inappropriate behavior. I'm hoping that this is not the attorney general's office piling on due to their religious beliefs."
JURY: JEHOVAH'S WITNESSES MUST PAY $35M TO ABUSE SURVIVOR
In response, Brett Hambright, a spokesperson for the state attorney general's office, said the charging documents "articulate incidents where defendants used their positions of authority within Jehovah's Witnesses congregations to build trust with children who they later abused."
Current Pennsylvania law mandates that clergy and other spiritual leaders report suspicions of child abuse that arise in the course of their work. But the law also provides for exceptions when spiritual leaders learn about abuse through confidential communications, such as confession to a Catholic priest.
Under the structure of the Jehovah's Witnesses faith, all baptized members are considered "ordained ministers." Groups of a half-dozen or more elders make many decisions, and elders field confessions of sin at the local congregation level.
More recently, after an Amish bishop in Lancaster County was charged with misdemeanor counts of failing to properly report suspected abuse — allegations for which he subsequently entered a program for first-time, nonviolent offenders — a Jehovah's Witnesses congregation in Philadelphia hired Haverstick's law firm to seek clarity about its elders' legal obligations.
The 140-member Ivy Hill congregation sued Pennsylvania's Department of Human Services, asking Commonwealth Court to clarify whether elders are mandated reporters if they learn of child abuse through a confidential confession. Human Services runs the state's ChildLine abuse hotline.
CLICK HERE TO GET THE FOX NEWS APP
The prospect that Pennsylvania's grand jury investigation may have uncovered secret church documents about how child sexual abuse matters have been handled has arisen as some lawyers for those harmed years ago are hoping they may soon be able to file new cases. That depends on whether state lawmakers establish a special two-year period to allow otherwise outdated child sexual abuse lawsuits.
The church has faced multiple lawsuits around the country in the past two decades, alleging cover-ups of abuse.
"There's no doubt in my mind that a grand jury is fully needed," said Marci Hamilton, chief executive of the Philadelphia-based advocacy group Child USA.