More than 30 cyclists were disqualified from the under-23 Giro d'Italia after they allegedly broke the rules of the race.
Cameras captured the riders grabbing onto team cars and motorbikes during the climb of the Passo dello Stelvio. The infamous stage of the race involves a steep climb up the mountain.
After a race jury reviewed videos filmed by fans, it disqualified 24 cyclists. After further review Thursday morning, an additional seven riders were disqualified.
CLICK HERE FOR MORE SPORTS COVERAGE ON FOXNEWS.COM
Of the riders disqualified, 24 were Italian and seven were foreign, including Belgian cyclist Tijl De Decker, who won this year's Paris-Roubaix Under 23. Four team staff members and their team cars were also excluded from the race.
"What we saw was really offensive to those who correctly interpret this sport," Italian Cycling Federation President Cordiano Dagnoni said Thursday. "They are images that really hurt.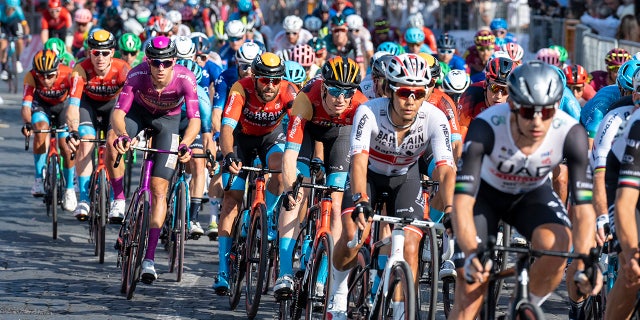 The peloton competing in downtown Rome during the 106th Giro d'Italia 2023.  (Stefano Costantino/SOPA Images/LightRocket via Getty Images)
"It's right to apply the rules, and I'm, above all, disappointed by the behavior of the sporting directors in the team cars because they should be the first to teach the youngsters how to respect the rules."
"I asked (race organizers) RCS Sport to invite at least half Italian teams," Dagnoni said. "At this point, having seen the behavior of our teams and of our cyclists, I no longer feel like recommending they be invited in the future. I will leave RCS Sport free to invite teams at their discretion."
The Associated Press contributed to this report.