Three men were convicted of various charges Tuesday in a trial showcasing U.S. claims that China has engineered pressure campaigns on American soil to bully expatriates into returning home, part of an effort called "Operation Fox Hunt."
American private investigator Michael McMahon and two Chinese citizens living in the U.S. — Zheng Congying and Zhu Yong — all were accused of taking part in scare tactics aimed at a former Chinese official. He was living quietly in New Jersey, and Beijing wanted him back.
Zhu was convicted of acting as an illegal foreign agent, stalking, interstate stalking conspiracy and conspiring to act as an illegal foreign agent. Zheng was convicted of stalking and stalking conspiracy but acquitted of the other charges.
McMahon was convicted of all except conspiracy to act as a foreign agent.
Prosecutors say pressure from Beijing was brought to bear in suburban New Jersey, where former Wuhan city official Xu Jin and his family moved in 2010. China has accused him and wife Liu Fang of taking bribes; they deny it and say they were targeted because he got crosswise with China's Communist power structure.
According to prosecutors, Zhu, Zheng and McMahon took part in a years long, multipronged effort to goad Xu into going back to China. The country couldn't officially compel him to do so, as it has no extradition treaty with the U.S.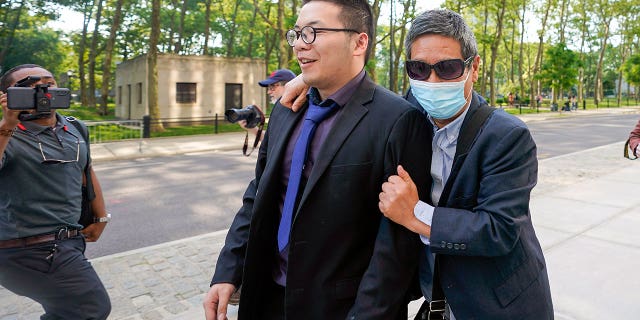 Zhu Yong, right, tries to shield himself from photographers as he leaves federal court on May 31 in the Brooklyn borough of New York. Zhu was one of three met accused of participating in an escalating series of scare tactics aimed at repatriating a former Chinese official who was living quietly in New Jersey.  (Mary Altaffer)
The defense acknowledged that Zhu, Zheng and McMahon took various actions but said the three had no idea that Beijing was allegedly behind it all.
Zheng and Zhu left court without speaking to reporters. Messages seeking comment were sent to their attorneys.
McMahon, a former New York City police sergeant, conducted surveillance and data searches to smoke out Xu's carefully guarded address and information about his loved ones. Zhu, a retiree who also goes by Jason Zhu and Yong Zhu, helped hire McMahon and equip him with details to get started.
Zheng later went to Xu's home and left an ominous note: "If you are willing to go back to the mainland and spend 10 years in prison, your wife and children will be all right. That's the end of this matter!"
But Assistant U.S. Attorney Craig Heeren said the three "agreed to participate in something that went way, way over the line … a line that all three defendants knew they were crossing."
The trial unfolded at a fraught time in U.S.-China relations. The two powers have been at odds in recent years over a growing list of issues: trade, industrial espionage, human rights, Taiwan, the South China Sea, Russia's war against Ukraine, U.S. allegations of Chinese spying, and Washington's claims that Beijing is tracking and harassing dissidents overseas.
The two nations said they made some progress toward improving relations in recent days, when U.S. Secretary of State Antony Blinken visited Beijing for talks with Chinese President Xi Jinping and top diplomats. But it remains unclear whether the countries will be able to bridge their biggest divides, and Blinken said he left empty-handed on a key request: better military-to-military communication.
CLICK HERE TO GET THE FOX NEWS APP
Prosecutors said the arm-twisting included derogatory Facebook messages to friends of Xu's adult daughter and an onslaught of letters to a relative in New Jersey.
At one point, a Chinese prosecutor even flew Xu's unwilling, octogenarian father to New Jersey to lean on his son to return to their homeland, according to prosecutors and trial testimony.