State and local governments in Wisconsin would not be allowed to ban gas-powered vehicles, snow blowers, lawnmowers and other machines under a pair of bills up for a vote Tuesday in the state Assembly.
The bills' Republican sponsors hope to outlaw measures similar to a law passed in California last year requiring that all new cars, trucks and SUVs sold in the state run on electricity or hydrogen by 2035. That decision left 17 states with vehicle emissions standards tied to California laws facing tough decisions on whether they would adopt the same ban on gasoline-fueled vehicles.
Wisconsin was not among those states. However, in a message to lawmakers seeking cosponsors, the Republican authors of the Wisconsin bills stoked fears of "runaway state bureaucrats and excessive local governments" taking matters into their own hands to ban gas engines.
WISCONSIN MAN GETS LIFE FOR WIFE'S 1998 ANTIFREEZE POISONING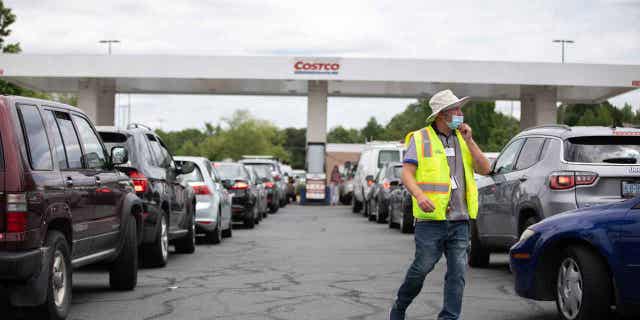 Attendants direct cars as they line up to fill their gas tanks at a COSTCO in Charlotte, North Carolina, on May 11, 2021. Wisconsin lawmakers are pushing for a bill that would prevent a ban on gas-powered engines. (LOGAN CYRUS/AFP via Getty Images)
Gas stations and fossil fuel industry groups such as Kwik Trip and the American Petroleum Institute have thrown their support behind the measures. Meanwhile, environmental advocates and the American Lung Association oppose them.
CLICK HERE TO GET THE FOX NEWS APP
If the measures pass the Republican-controlled Assembly on Tuesday, they would still need approval from the Senate and Democratic Gov. Tony Evers, who is likely to veto them. Evers has been at odds with Republicans when pushing to use state money to build out electric vehicle charging stations. The governor's spokesperson, Britt Cudaback, did not immediately respond to an email Monday asking whether he would veto the measures.