Ukraine is claiming Friday that an intercepted phone call between two men talking in Russian proves that a Russian "sabotage group" is behind this week's destruction of the Kakhovka hydroelectric power plant and dam, which has caused extensive flooding.
The domestic Security Service of Ukraine (SBU) posted a one-and-a-half-minute clip of the alleged conversation on its Telegram page, according to Reuters.
"They (the Ukrainians) didn't strike it. That was our sabotage group," the news agency reports one of the men – described by the SBU as a Russian soldier — saying in the recording. "They wanted to, like, scare (people) with that dam."
"It didn't go according to plan, and (they did) more than what they planned for," the man reportedly added.
"By blowing up the Kakhovskaya HPP dam, the Russian Federation definitively proved that it is a threat to the entire civilized world," added SBU chief Vasyl Malyuk. "Our task is to bring to justice not only the leaders of Russian President Vladimir Putin's regime, but also the ordinary perpetrators of crimes."
The Kremlin on Tuesday denied any fault for the damage caused to the dam after it collapsed and sent a torrent of water into the surrounding areas in the southern Ukrainian region of Kherson. The Kremlin is pointing the blame squarely at Kyiv.
UKRAINE LAUNCHES HIGHLY ANTICIPATED COUNTEROFFENSIVE AGAINST RUSSIA WITH WESTERN ARMS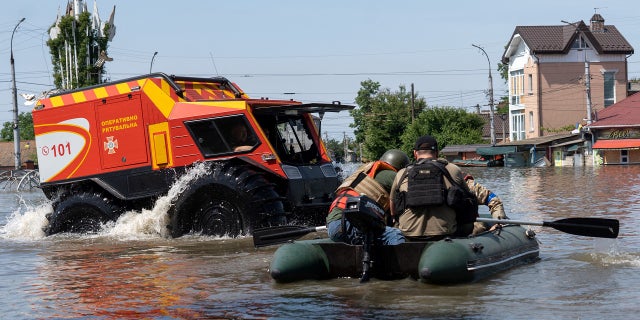 Ukrainian security forces transport local residents in a boat during an evacuation from a flooded area in Kherson on Wednesday, June 7. (Aleksey Filippov/AFP/Getty Images)
CLICK HERE TO GET THE FOX NEWS APP
"We know that from 35 to 70 settlements will be flooded. We know that there will be issues with drinking water supplies. Even areas that haven't been flooded will have drinking water issues," Ukrainian President Volodymyr Zelenskyy said earlier this week, referencing the Dnipropetrovsk, Zaporizhzhia and Kherson regions, as first reported by the Ukrainian news outlet Pravda.
Also on Friday, a Russian regional governor said three people were lightly wounded after a drone crashed into a residential building in Voronezh, a city near the country's border with Ukraine, according to The Associated Press.