The stepson of British billionaire Hamish Harding defended going to a Blink-182 concert as rescuers search for his stepfather and other passengers on a missing sub.
Brian Szasz stood by his decision on social media, writing that he is "not sorry" he went to see the band which has "helped me through hard times" while Harding and four other passengers on board OceanGate Expeditions' Titanic tourist submersible remain missing.
"Yes I went to @blink-182 last night," Szasz, a San Diego-based audio engineer, wrote in an Instagram Story on June 20, when he was pictured standing in front of a Blink-182 merchandise tent. "What am I supposed to do sit at home and watch the news?"
"Not sorry this band has helped me through hard times since 1998," Szasz added.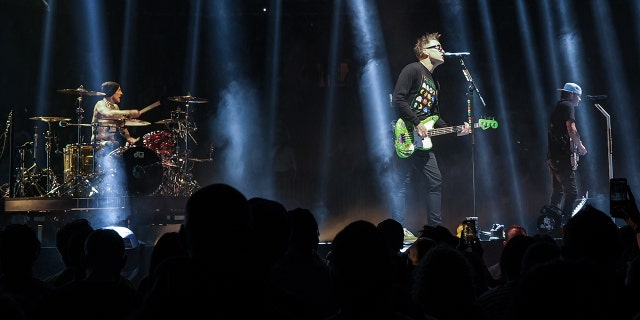 From left to right, Travis Barker, Mark Hoppus and Tom DeLonge of Blink-182 perform onstage at Madison Square Garden on May 19, 2023 in New York City. Brian Szasz attended a Blink-182 show in San Diego on June 19, 2023, while his stepfather Hamish Harding and four others aboard a tourist submersible remain missing. (Manny Carabel/Getty Images)
On Twitter, Szasz thanked the members of Blink-182 for cheering him up through their performance. "My stepdad Hamish is on this submarine lost at sea. I'm devastated but coming to the San Diego show tonight so you guys can give me hope and cheer me up," Szasz tweeted.
Fox News has reached out to Szasz for additional comment.
Harding is one of five passengers on an OceanGate Expedition tourist submersible that was reported missing Monday. The other passengers include Pakistani businessman Shahzada Dawood, 48, and his son Sulaiman Dawood, 19, as well as OceanGate CEO Stockton Rush and French mariner Paul-Henry Nargeolet.
The Coast Guard said Tuesday afternoon that there were just 40 hours left of "breathable air" inside the vessel.
By their estimate, it should run out by Thursday morning Eastern Standard Time.
MISSING SUB'S RESCUE UNLIKELY IN FRIGHTENING HUMAN DRAMA, SAY EXPERTS: 'THE MATH IS NOT GREAT'
CLICK HERE TO GET THE FOX NEWS APP
The 21-foot submersible, with five people on board, lost contact approximately 900 nautical miles East of Cape Cod, Massachusetts on Sunday, June 18.
"Our thoughts and prayers are with the crew and the families and their loved ones," Fredrick said.