Six people who were killed in Murrieta, California, early Saturday morning when the plane they were on crashed, have been identified by the Riverside County Sheriff Coroner's Office.
The Cessna C550 business jet went down near French Valley Airport at about 4:15 a.m. local time, according to the Federal Aviation Administration.
Six individuals who were on the business jet were on their way to California from Harry Reid International Airport in Las Vegas, when the plane went down.
The victims have been identified as Ibrahem Razick, 46, of Temecula; Alma Razick, 51, of Temecula; Lindsey Gleiche, 31, of Huntington Beach; Manuel Vargas-Regalado, 32, of Temecula; Riese Lenders, 25, of Rancho Palos Verdes; and Abigail Tellez-Vargas, 33, of Murrieta.
SOUTHERN CALIFORNIA PLANE CRASH KILLS 1, INJURES 3 OTHERS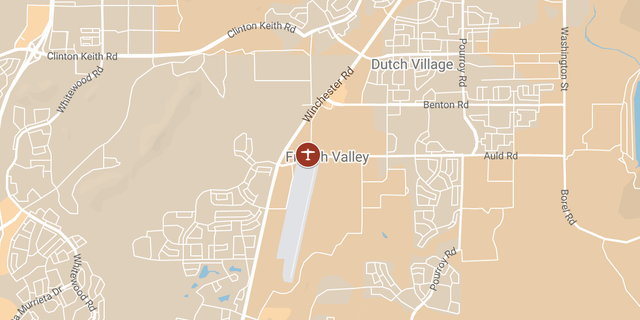 A map shared by CAL FIRE and Riverside County Fire Department marking the site of the Cessna business jet crash Saturday. (CAL FIRE/Riverside County Fire Department)
"Cessna aircraft down in a field, fully involved in fire," CAL FIRE reported via social media. "The fire burned approximately one acre of vegetation, was contained at 5:35 a.m. and the incident has been turned over to RSO and the FAA."
It's unclear what caused the plane to crash.