White House Press Secretary Karine Jean-Pierre had a tense exchange with reporters Friday after attempting to dodge answering a question about former President Donald Trump.
Agence France-Presse reporter Sebastian Smith and New York Times White House correspondent Michael Shear pressed Jean-Pierre during the latest press briefing on why she couldn't answer a question relating to President Joe Biden's current thoughts on Trump.
After Smith asked the question, which she dodged, Shear demanded to know why Jean-Pierre has been very open to Trump questions in the past but not now. After explaining why she couldn't' answer the original question, they corrected her for misrepresenting it, which prompted laughter in the briefing room.
DONALD TRUMP ANNOUNCED 2024 RE-ELECTION RUN FOR PRESIDENT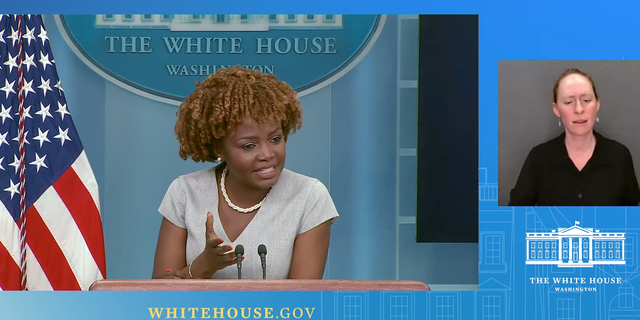 White House Press Secretary Karine Jean-Pierre debates reporters hammering her over dodging their question about former President Donald Trump. (Screenshot/YouTube)
She then declared she will never mention Trump in relation to his 2024 candidacy from the briefing room podium in the future.
The exchange began with Smith mentioning Trump's GOP polling, showing him as the clear Republican Party front-runner for president. He then attempted to ask Jean-Pierre about her boss' perspective on that.
"It's not a 2024, not a Hatch Act-type question, let's put it that way," Smith began, eliciting laughter from Jean-Pierre, who interjected, "That's what you think."
He continued, "But Donald Trump is the front-runner at the moment – clear front-runner of the Republican Party. He wants to be president and he's the front-runner of his party… This is somebody that President Biden has described as literally a danger to the country, and his movement an existential threat to democracy, etc."
After the set-up, he finally asked, "So candidate or not, is current President Biden, is he following the words and actions of Donald Trump on a fairly regularly basis, considering he's a danger in his view?"
The press secretary politely declined to answer, claiming that because the question pertained to a "candidate in 2024," she's "just not going to speak to it."
Jean-Pierre added, "What I can speak to is how the president is focusing on the American people and how he is delivering for the American people." She also mentioned that "what we know to be a threat is the MAGA wing of the Republican Party and Speaker McCarthy," who she claimed are "holding the American economy hostage."
MCCONNELL RIPS BIDEN'S 'EXTREME POSITION' ON DEBT LIMIT IN FIRST SPEECH BACK AFTER CONCUSSION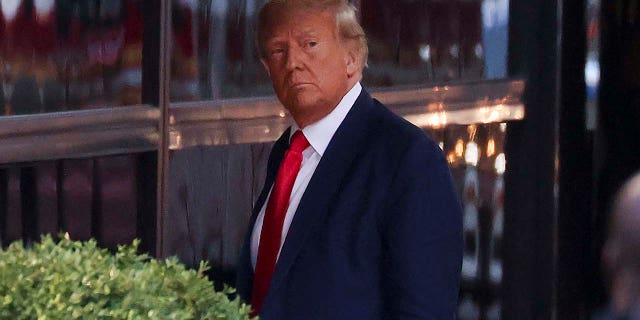 Former President Donald Trump arrives at Trump Tower, Monday, April 3, 2023, in New York. Trump arrived in New York on Monday for his booking and arraignment the following day on charges arising from hush money payments during his 2016 campaign.  (AP Photo/Yuki Iwamura)
She added, "That's what we're going to focus on right now… feel free to ask me a million questions about that."
Jean-Pierre then called on Shear who wasn't satisfied with her previous answer. He asked pointedly, "Why have you been willing to talk about President Trump before? And were you in violation of the Hatch Act when you did so?"
"Absolutely not," she responded. She added, "President Trump, we were talking about what he did in the last administration. We were talking about policies that were harmful in the past administration."
The press secretary then attempted to reiterate Smith's question for Shear, saying, "He asked me, does the president believe that Donald Trump is a threat if he wins, right? Because he's a candidate?"
"No, no, no, he didn't ask that," Shear corrected her, laughing. Smith then chimed in, saying, "Can I just say what I said?" By that point other reporters in the room started chuckling at the cumbersome exchange as well.
Smith continued, "I was asking, is President Biden, does he follow the words and actions of this person, Donald Trump –"
Jean-Pierre cut him off, saying, "Yes! As a candidate! Right? As a candidate." She then held up her hand to quell Smith's subsequent questions, saying, "I'm not talking about 2024."
An exasperated Shear asked, "2024? Donald Trump has been a candidate for re-election for like a year and you've talked about him a lot and what he's done, a lot!"
CLICK HERE TO GET THE FOX NEWS APP
The official clarified that she was simply talking about Trump's "policies when he was president. That's what I talked about."
She concluded, "I've not talked about him as a candidate and I'm not going to do that from here. I'm just not."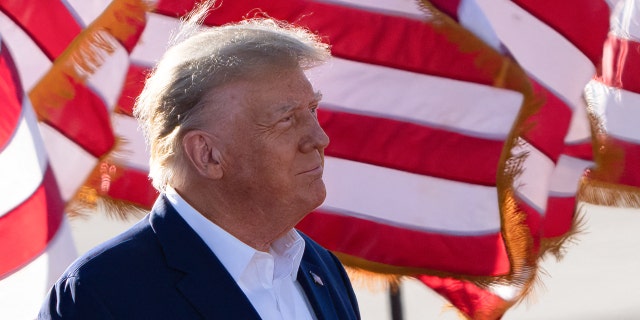 Former U.S. President Donald Trump speaks during a 2024 election campaign rally in Waco, Texas, March 25, 2023. – Trump held the rally at the site of the deadly 1993 standoff between an anti-government cult and federal agents.  ((Photo by SUZANNE CORDEIRO/AFP via Getty Images))