The Massachusetts Air National Guardsman accused of leaking classified Pentagon documents has made numerous comments on social media over the past six months threatening violence, the Justice Department is alleging.
Jack Teixeira, 21, is awaiting Friday a decision from a federal judge over whether he will remain in pretrial detention. He is facing charges of unauthorized retention and transmission of national defense information and willful retention of classified documents.
"A review of records received from a social media platform… indicate that the Defendant regularly made comments about violence and murder," the Justice Department wrote in a filing this week arguing for Teixeira to be held on the basis that he is a serious flight risk.
"In November 2022, the Defendant stated that if he had his way, he would 'kill a [expletive] ton of people' because it would be "culling the weak minded,'" the document said.
PENTAGON LEAK SUSPECT JACK TEIXEIRA PRETRIAL DETENTION DECISION TO BE MADE AT A LATER DATE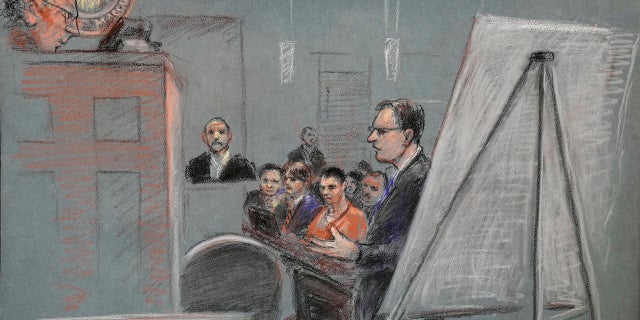 Massachusetts Air National Guardsman Jack Teixeira, center, is seated as defense attorney Brendan Kelley stands and speaks, at right, and his father Jack Michael Teixeira is seated in the witness stand, during a detention hearing in federal court, on Thursday in Worcester, Massachusetts. The Justice Department wants Teixeira held in pretrial detention. (Margaret Small via AP)
"In February 2023, the Defendant told a user that he was tempted to make a specific type of minivan into an 'assassination van,'" it continued.
"Also in February 2023, the Defendant sought advice from another user about what type of rifle would be easy to operate from the back of an SUV," the document said. "He describes how he would conduct the shooting in a 'crowded urban or suburban environment.'"
And most recently in March, Teixeira "described SUVs and crossovers as 'mobile gun trucks' and '[o]ff-road and good assassination vehicles'," according to federal prosecutors.
The Justice Department also revealed in the pretrial filing that Teixeira, at his home in North Dighton, Massachusetts, kept a gun locker two feet from his bed with "multiple weapons, including handguns, bolt-action rifles, shotguns, an AK-style high-capacity weapon, and a gas mask."
PENTAGON LEAK SUSPECT JACK TEIXEIRA TOLD DISCORD USER 'DELETE ALL MESSAGES,' KEPT GUN LOCKER NEAR BED, JUSTICE DEPARTMENT SAYS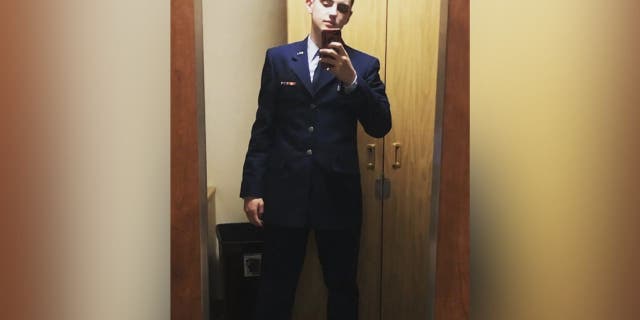 Selfie of Jack Teixeira, the 21-year-old National Guard Airman accused of leaking classified information. (Facebook)
Its court filing said in addition to the alleged online posts, Teixeira "used his government computer to search for the following terms: 'Ruby Ridge,' 'Las Vegas shooting,' 'Mandalay Bay shooting,' 'Buffalo tops shooting,' and 'Uvalde.' These searches were not related to the Defendant's position in information technology.
"While it has been reported in the media that these searches may have been tied to the Defendant's belief that the government had prior notice of these threats and failed to act, the combination of these search terms, the Defendant's violent statements on social media, and the Defendant's arsenal of weapons is troubling," it concluded.
CLICK HERE TO GET THE FOX NEWS APP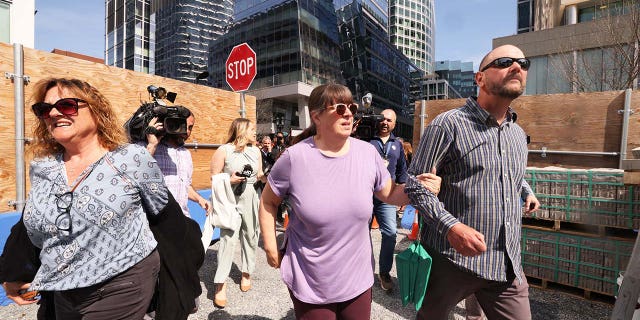 The parents (center and right) of Jack Teixeira leave John Joseph Moakley United States Courthouse in Boston after their sons arraigned for allegedly leak of Pentagon documents on Friday, April 14, 2023. (Marc Vasconcellos/The Enterprise/USA-Today Network)
Teixeira's lawyers Thursday morning argued he is not a flight risk and that the Justice Department was making, "hyperbolic judgments and provides little more than speculation that a foreign adversary will seduce Mr. Teixeira and orchestrate his clandestine escape from the United States."
His legal team had called for Teixeira to be released to his father with location monitoring, no access to internet, no contact with witnesses, and a bond of $20,000.
Fox News' Tamara Gitt and Greg Wehner contributed to this report.