A new woke TV show based on 'Grease' will reportedly feature a new song about White supremacy, with lyrics about the exclusion of those "Jewish, Asian, brown or Black, single woman or gay, on the wrong side of they."
'Grease: Rise of the Pink Ladies' is a new TV show that serves as a prequel to the original hit film that debuted in the 1970s. The show is set to take place four years before the original but with various messages about identity politics. Its stated purpose is to explore "sexual orientation, gender expression and racial identity."
The Daily Mail reported Thursday, "Family favorite tunes will be re-sung alongside new musical numbers including one about white supremacy, while the 1950s student population at Rydell High School will be re-filled with a varied mix of LGBT and black high schoolers unseen in the 1978 hit."
The female led cast reportedly includes "gender nonconforming nonbinary trans actor Ari Notartomaso, who plays Cynthia," described as "a non-binary tomboy who struggles to fit in alongside her multicultural band mates."
DAILY SHOW MOCKS 'RACISM', 'SEXISM' OF JILL BIDEN FOR INVITING WOMEN'S BASKETBALL TEAM AFTER LOSS
LOS ANGELES – JUNE 16: The movie "Grease", directed by Randal Kleiser. Seen here from left, Olivia Newton-John as Sandy and John Travolta as Danny Zuko singing 'You're the One That I Want.'  Initial theatrical release of the film, June 16, 1978. Screen capture. Paramount Pictures. (Photo by CBS via Getty Images)
The new song about White supremacy, 'In The Club,' animates rich, White country club members "out of an oil painting to sing about white supremacy."
"When you're in the club, we've got each other's backs. As long as you're not Jewish, Asian, brown or Black, single woman or gay, on the wrong side of they," the lyric include.
'Grease: Rise of the Pink Ladies' will also feature topics such as a half Latina and half Italian student running for student body president after being bullied, a Mexican American student coping with an inappropriate relationship between herself and a teacher, and more.
The show started streaming April 6 on Paramount+ with two episodes, with the next 8 to be released weekly.
BUD LIGHT, NIKE TRANS ACTIVIST PARTNERSHIP IS THE WORST KIND OF 'WOKE CAPITALISM', SAYS VIVEK RAMASWAMY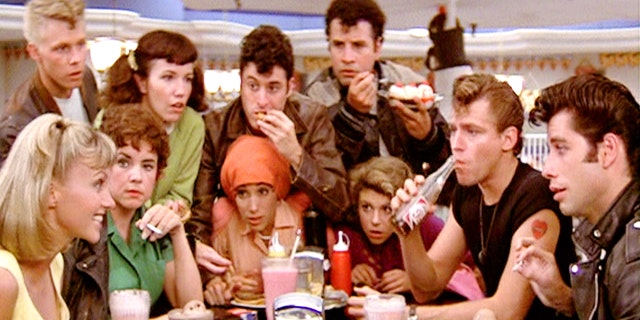 LOS ANGELES – JUNE 16: The movie "Grease", directed by Randal Kleiser. Seen here at the malt shop, the Pink Ladies and the T-Birds. In back from left, Kelly Ward (as Putzie), Jamie Donnelly (as Jan), Barry Pearl (as Doody) and Michael Tucci (as Sonny). Seated, from left, Olivia Newton-John (as Sandy), Stockard Channing (as Rizzo), Didi Conn (as Frenchy), Dinah Manoff (as Marty), Jeff Conaway (as Kenickie) and John Travolta (as Danny). Initial theatrical release of the film, June 16, 1978. Screen capture. Paramount Pictures. (Photo by CBS via Getty Images)
The prequel has drawn praise from some, particularly on the political left, for what they describe as its cultural relevance. An op-ed published by CNN Thursday praised the series for providing audiences with both nostalgia and "edgier, diverse, more socially relevant" content. The piece noted that Grease 2, which came out in the years following the original, failed because it featured a romance between a tough girl with a weak boy.
"The formula was soundly rejected, as were the much-closer-to-R-rated musical numbers," the author wrote.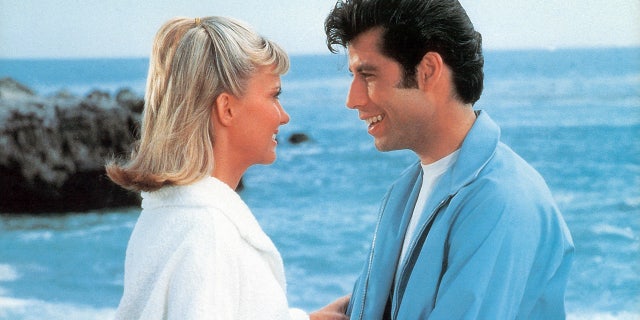 Olivia Newton-John and John Travolta on the beach in a scene from the film 'Grease', 1978. (Photo by Paramount/Getty Images)
CLICK HERE TO GET THE FOX NEWS APP
Entertainment has become the latest battleground for America's culture wars in recent years. Disney, for example, has rebooted "The Proud Family", a cartoon that argued America was founded on racism and was highly critical of White people this season. Leftist bias and identity politics messaging has pushed some parents away from Disney and toward alternative sources of content.