With hundreds of migrants arriving daily, New York City will start giving adult asylum seekers in the city's shelter system 60 days notice to find somewhere else to live, Mayor Eric Adams said Wednesday.
The new policy is intended to make room for migrant families with children, Adams said. Caseworkers will help migrants who are asked to vacate find housing and other services, he said, and those who don't find alternative housing within 60 days will have to return to the intake center and reapply for a new placement.
"We must now take additional steps to create urgently needed space for families with children who continue to arrive seeking asylum and help those with us take the next steps to their journey," Adams said at a City Hall news conference. He added, "Our goal is no child, no family sleeping on the streets."
NYC ISSUES POSTERS TELLING MIGRANTS TO 'CONSIDER ANOTHER CITY,' WARNS OF SKY-HIGH PRICES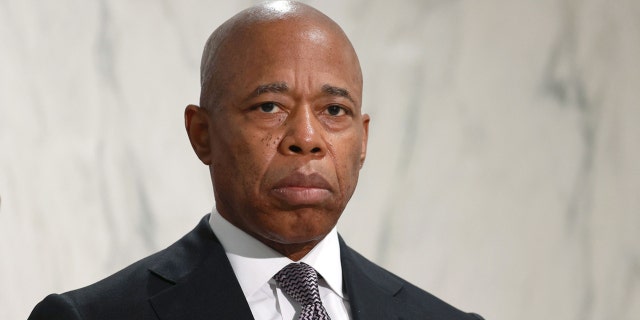 Mayor Eric Adams is pictured during briefing at the Javits Federal Building on April 17, 2023.  ((Luiz C. Ribeiro/New York Daily News/Tribune News Service via Getty Images))
Under the new policy, Deputy Mayor for Health and Human Services Anne Williams-Isom said adult asylum seekers who have been in the city's shelter system for a significant amount of time will receive their 60-day notice on a rolling basis.
"As we continue to tackle this humanitarian crisis, we must devise novel ways of moving people within and through our system to find where they will ultimately settle," Williams-Isom said.
NEW YORK CITY DEPARTMENT OF HEALTH PUSHES REPARATIONS TO ELIMINATE 'BLACK-WHITE WEALTH GAP'
CLICK HERE TO GET THE FOX NEWS APP
"The court system is going to do what the court system is going to do," he said.