House Speaker Kevin McCarthy, R-Calif., is threatening to withhold funding from a visa program that he said has led to the increased presence of organized crime from Chilean gangs that are "raiding" U.S. homes.
Speaking at a press conference in his home state of California on Friday, the GOP leader called on Homeland Security Secretary Alejandro Mayorkas to suspend the Visa Waiver Program for Chile. McCarthy said that program has allowed for soaring levels of "burglary tourism" where thousands of dollars worth of stolen items are laundered through China, and the profits of these raids end back up in South America.
Out of 40 countries that participate in the Visa Waiver Program, Chile does not allow for criminal background checks for people traveling to the U.S., McCarthy said.
"Now what we are finding, with more than 350,000 people from Chile coming here in the last year out of a country of only 19 million, organized crime is raiding our homes. They're sophisticated. They don't come and break in the front door," McCarthy said.
BLACK CALIFORNIANS TOLD TO HAVE 'BROADER VIEW ON WHAT REPARATIONS COULD BE,' NOT EXPECT CASH PAYMENTS
"Secretary [Mayorkas] has ignored the safety of Americans. If you've ever been robbed in your house, you lose more than just your property. You lose the sense of safety," McCarthy said.
"When we mark up appropriations coming in the next weeks, we will put a provision in there – because Secretary Mayorkas will not act – that we will not allow him to use money when it comes to Chile for the visa waiver program until this issue is solved so Americans are safe," he added.
"We have deep concerns that Chile is neither meeting the information-sharing requirements for participation in the VWP nor complying with the Agreement on Enhancing Cooperation in Preventing and Combating Serious Crime. We request you raise such concerns to the relevant entities within the Government of Chile and strongly urge you to meet the requirements of the VWP for continued participation in the program," they wrote.
"If you do not act to comply with such requirements, we are confident that Chile will be suspended or terminated from VWP participation," they added.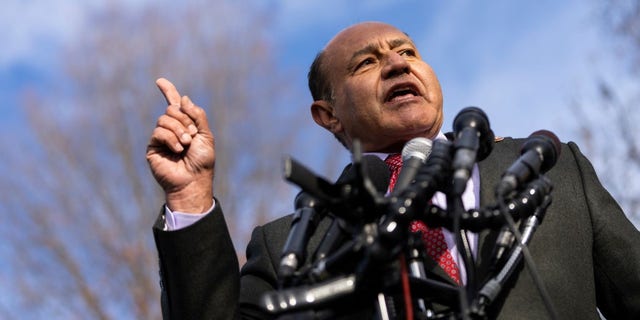 Rep. Lou Correa, D-Calif., expressed similar concerns in a letter sent on Friday.
McCarthy said he did not speak to Mayorkas about the issue directly but said he anticipated it would play a role in his hearing before the House Judiciary Committee next month.
"I hope he's prepared to answer this question. Because on a bipartisan level, we want America protected. If he won't take action, we will," the speaker said.