A retired Massachusetts police detective had a years-long affair with an alleged New England heroin kingpin's fiancee during which he had sex with her in a patrol car and provided her with seized marijuana, a report claimed.
Former New Bedford Police detective Jared Lucas was the subject of an internal investigation this year that found he had an affair with Carly Medeiros and likely used his power as a law enforcement officer to protect her from legal troubles, the Boston Globe reported last month, citing the New Bedford internal affairs report.
Medeiros first sounded the alarm on Lucas' conduct in an affidavit last year, but prosecutors dismissed her account as uncorroborated and her affidavit wasn't released to the public, according to the Globe. The outlet subsequently began its own investigation into Medeiros' claims, sparking the internal review that reportedly led to the department finding the woman's claims have merit.
Medeiros said that going back to 2014, she had met regularly with Lucas, even allegedly staying at his home and introducing him to her mother and sister. Medeiros is the fiancee of Steven Ortiz, an alleged Massachusetts heroin dealer currently awaiting trial on drug trafficking and conspiracy charges.
Police arrested Ortiz in June 2017 after a state wiretap of Ortiz's phone led law enforcement to a parking lot in Fall River. Authorities recovered nearly 250 grams of heroin and fentanyl from Ortiz's car during the bust. All in, 21 people were arrested as part of Operation High Stakes and roughly 400 grams of heroin and fentanyl were seized, police said.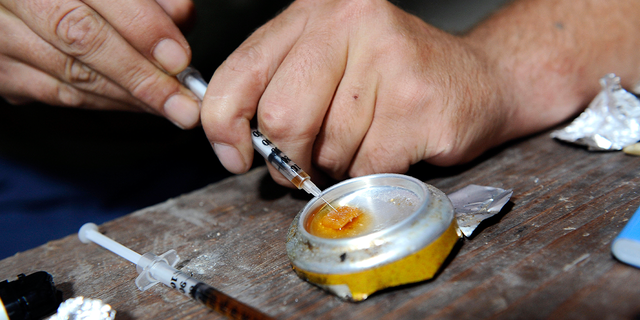 A man prepares to inject heroin. (Reuters)
EX-TENNESSEE COP AT CENTER OF SEX-ROMP SCANDAL CLAIMS SHE WAS SEXUALLY 'GROOMED' IN NEW LAWSUIT
Medeiros said she first met Lucas as she was leaving the beach, when his police car pulled up to her and he allegedly asked: "You're Steven's girl, right?"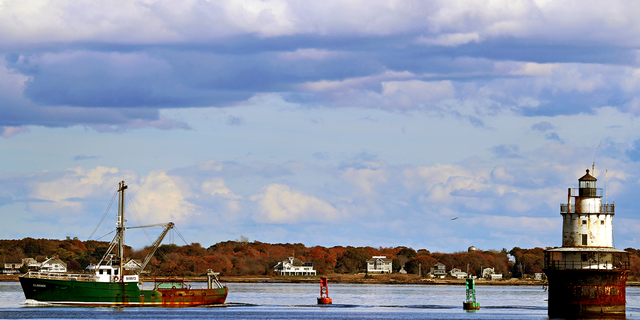 A fishing boat passes a lighthouse on its way toward the entrance of the New Bedford Harbor on Nov. 4, 2021. New Bedford was once the whaling capital of the world. (David L. Ryan/The Boston Globe via Getty Images)
Lucas retired in 2021, before the internal investigation began, and was not interviewed for the investigation despite efforts by police officials to contact him, the Boston Globe reported. Medeiros declined being interviewed for the investigation. The internal investigation's findings mark the first time the department acknowledged official misconduct carried out by Lucas.
WILD SEX CLAIMS REVEALED AT 'CUSHIEST' PRISON AS 18 FEMALE GUARDS FIRED, QUIT: REPORT
"I wasn't lying about any of this," Medeiros told the Globe. "I'm just so happy that what I said turned out to be [found] true.
New Bedford Police Chief Paul Oliveira told the Boston Globe it is "disappointing to see that an officer has used terrible judgment and engaged in unethical behavior."
"[Lucas's] egregious behavior while in our employment is an anomaly and does not reflect the true caliber of the men and women of the New Bedford Police Department who serve honorably and selflessly each day," Oliveira said.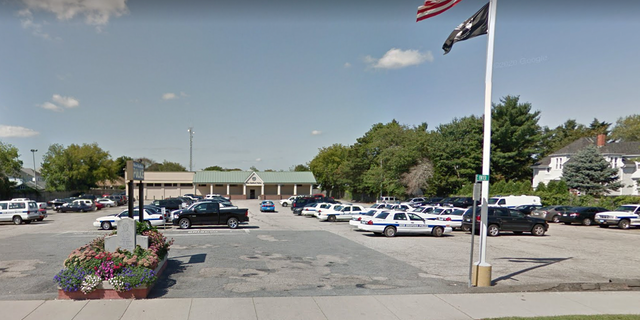 The New Bedford Police Department (Google Maps )
When contacted by the Globe, Lucas hit back that the reporter was infatuated with him.
The police department did not immediately respond to Fox News Digital's request for additional comment. Fox News additionally attempted to contact Lucas and Medeiros on email regarding the scandal but did not immediately receive replies.