Rep. Marjorie Taylor Greene, a Republican from Georgia, announced Monday she will introduce a measure to remove funding for special counsel Jack Smith's office and his investigation into former President Donald Trump.
"Today, I'd like to announce that I'm writing an appropriations rider to defund Jack Smith, special counsel, his office and the investigation," Greene said Monday on the House Floor. "This is a weaponized government attempt to take down the top political enemy and leading presidential candidate of the United States, Donald J. Trump."
Smith was appointed by Attorney General Merrick Garland in November to investigate Trump's handling of classified documents that he removed from the White House and transported to Mar-a-Lago when his term ended.
Greene's announcement comes as Trump is scheduled to be arraigned Tuesday in Miami, Florida, on 37 charges connected to the classified documents and alleged obstruction of justice.
She also made comparisons between how the Justice Department was handling Trump's case and how it investigated former Secretary of State Hillary Clinton.
"There should have been an investigation done into that," she said.
REP. TAYLOR GREENE SUGGESTS 'NATIONAL DIVORCE' ON PRESIDENTS DAY
Florida Republican Rep. Matt Gaetz expressed support for Greene's proposal.
"This is an Article I flex! I'm so here for it," he wrote on Twitter.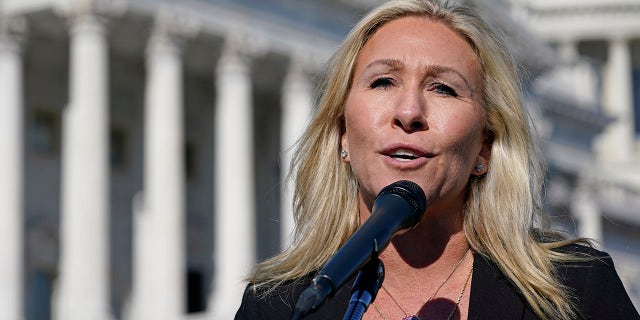 Rep. Marjorie Taylor Greene argued that the investigation into Trump is politically motivated. (AP)
NEARLY HALF THE COUNTRY SUPPORTS TRUMP FEDERAL INDICTMENT BUT BELIEVES POLITICS WERE INVOLVED: POLL
These documents included "information regarding defense and weapons capabilities of both the United States and foreign counties; United States nuclear programs; potential vulnerabilities of the United States and its allies to military attack; and plans for possible retaliation in response to foreign attack," Smith said.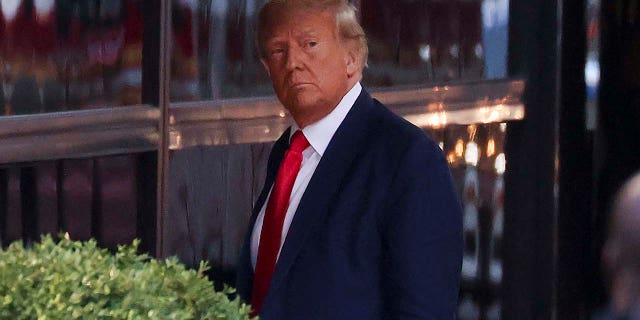 Trump is scheduled to be arraigned Tuesday in Miami, Florida, on 37 charges connected to his handling of classified documents (AP Photo/Yuki Iwamura)
CLICK HERE TO GET THE FOX NEWS APP
Smith's office also said the former president spoke to other people about the classified material. He also precariously stored them inside a ballroom, a bathroom and shower, an office space, his bedroom and a storage room at his club and residence at Mar-a-Lago, the special counsel alleged.