An advocacy group is pressing LinkedIn after the social media company used their "Diversity in Recruiting" ("DIR") feature to "diversify the group of candidates displayed to recruiters."
The Equal Protection Project of the Legal Insurrection Foundation (EPP) is calling for the career social media company to change their policy and not allow a "manipulated pool of candidates."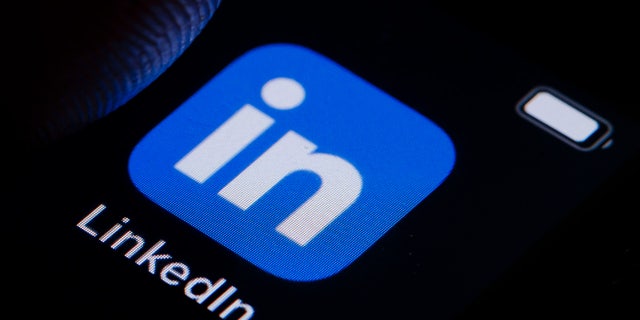 In this photo illustration the logo of LinkedIn can be seen on a smartphone on March 10, 2022 in Berlin, Germany.  (Thomas Trutschel/Photothek via Getty Images)
The call for change comes following last week's U.S. Supreme Court decision to dismantle affirmative action practices in college admissions
CALIFORNIA SCHOOL DISTRICT SUSPENDS KIDS FOR 5 DAYS FOR MISGENDERING TRANS STUDENTS: 'RESTORATIVE JUSTICE'
THOMAS BLASTS JACKSON'S 'RACE-INFUSED WORLD VIEW' IN SUPREME COURT RULING OUTLAWING AFFIRMATIVE ACTION
Although users can opt out of the DIR feature, LinkedIn uses the feature to help recruiters find a "more diverse group of qualified candidates."
"Some people are promoted to potential employers based on the candidates' protected status, which runs counter to LinkedIn's own non-discrimination rules," Jacobson said to Fox News Digital. "What's worse, candidates may never know how they have been treated in this filtering system based on their protected status, and it's not even clear if recruiters/employers are aware they are receiving a manipulated pool of candidates."
"LinkedIn asking candidates to consent to a discriminatory system does not excuse the discriminatory system."

— Bill Jacobson, President of The Equal Protection Project
The Equal Protection Project alleged that LinkedIn's algorithm favors diverse candidates-while discriminating against candidates who either choose not to divulge protected status information or candidates who do not meet diversity requirements.
SUPREME COURT REJECTS AFFIRMATIVE ACTION IN RULING ON UNIVERSITIES USING RACE IN ADMISSIONS DECISIONS
"LinkedIn's DIR program is particularly pernicious because it builds racial and other protected status classifications into the hiring process through demographic filtering and promotion," Jacobson said. "This built-in discrimination operates in the background through algorithms at the LinkedIn hub that connects candidates to recruiters/employers to impact the entire LinkedIn-related hiring process."
A LinkedIn spokesperson told Fox News Digital in a statement, "We believe all of our hiring products and algorithms comply with U.S. laws and regulations relating to discrimination on the basis of protected categories. Many hirers use LinkedIn to connect with diverse groups of qualified candidates for their roles."
"We often evaluate new ways to ensure that our tools recommend qualified candidates, but we don't enable recruiters to filter out or exclude applicants based on their race, gender or other protected demographics. People who use LinkedIn choose whether to share their demographic information and can control how their data is used through their settings," the statement continued.