PROGRAMMING ALERT: Watch House Oversight Committee Chairman James Comer discuss this topic and more on "The Ingraham Angle" on Tuesday, June 13 at 10 pm ET.
For the past year, the House Oversight Committee, where I serve as chairman, has been investigating the Biden family's influence peddling schemes that generated millions of dollars for the Biden family. We are following the facts. We need to know whether these deals threaten national security and if President Joe Biden is compromised.
The Oversight Committee has already obtained thousands of pages of financial records related to the Biden family and has traced millions of dollars from China and Romania to the Biden family and their associates. Americans are asking: What is the Biden family business? They don't sell anything, they don't have lucrative assets generating income, yet they receive millions from around the globe. What are they selling? Influence and access.
President Biden has repeatedly lied to the American people about his family's business dealings. Now, Americans are left wondering if Joe Biden was involved with them.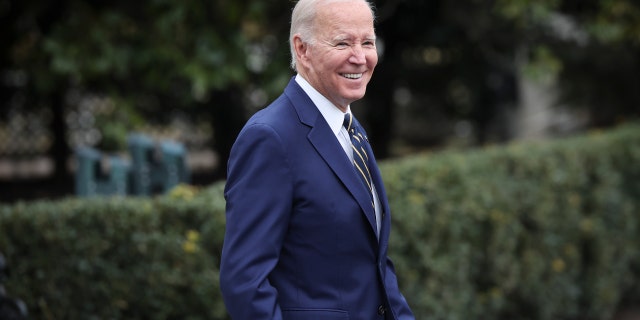 FILE – President Joe Biden departs the White House on January 19, 2023 in Washington, DC. ((Photo by Win McNamee/Getty Images))
Unfortunately, the premier agency that is supposed to investigate crimes appears to have run defense for the Bidens. FBI Director Christopher Wray refused for weeks to acknowledge the existence of the FD-1023 form and failed to produce it.
Once Director Wray finally confirmed the record's existence, the FBI still failed to comply with a congressional subpoena.
FBI WILLING TO ALLOW ALL HOUSE OVERSIGHT COMMITTEE MEMBERS TO VIEW BIDEN DOC ALLEGING CRIMINAL SCHEME: SOURCE
REPUBLICAN SENATORS CALL FOR FBI DIRECTOR CHRISTOPHER WRAY'S RESIGNATION
Here is what we know:
The FBI confirmed multiple times during our briefing that the information contained within the record is currently being used in an ongoing investigation.
The confidential human source who provided information about then-Vice President Biden being involved in a criminal bribery scheme is a trusted, highly credible informant who has been used by the FBI for years and paid six figures.
The allegations contained within the record track closely with the thousands of pages of financial records obtained by the Oversight Committee. The Bidens have a pattern of using their network of over 20 limited liability companies and complicated financial transactions to hide the sources of the money and evade detection.
Disinformation from the left reinforces the need for the FBI to produce this unclassified FD-1023 record to the House Oversight Committee.
CLICK HERE TO GET THE FOX NEWS APP
Americans have lost trust in the FBI's ability to enforce the law impartially and demand answers, transparency, and accountability.
The Oversight Committee will continue to follow the facts and ensure accountability for the American people. Democrats' lies and deterrents will not distract us from this goal.