Indiana's new state budget will expand eligibility for its private school voucher program to higher earners and speed up planned income tax rate cuts under a deal announced Wednesday by Republican legislative leaders.
Senate Republicans had resisted both House-backed moves but they were included in the budget agreement after an updated tax revenue report released last week showed the state is projected to collect about $1.5 billion, or 2.5% more than previously expected through July 2025.
INDIANA SENATE LIKELY TO PASS BILL STRIPPING TEACHERS UNIONS OF SOME LEVERAGE
Republican leaders said the budget deal increases K-12 school funding by nearly $1.2 billion, or 8%, over the budget's two years. The voucher expansion, however, could take up more than $500 million of that amount by raising the family income limit and lifting other restrictions on qualifying for state money toward private school tuition.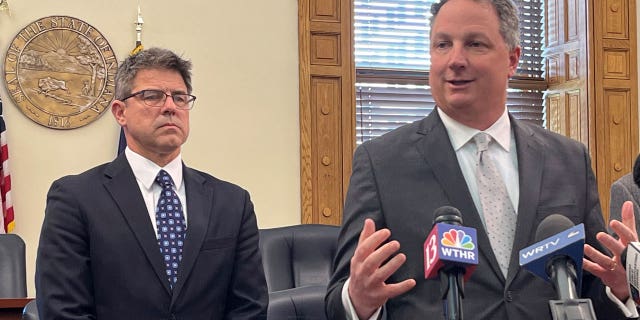 Republican Indiana House Speaker Todd Huston speaks at a Wednesday news conference alongside Senate President Pro Tempore Rodric Bray. The House and Senate have reportedly agreed on a budget deal which includes an expedited schedule for proposed tax cuts and expanded school voucher availability. (AP Photo/Tom Davies)
Supporters of the voucher expansion argue it empowers parents to decide which school is best for their children. The plan raises the voucher income limit for a family of four from the current $154,000 to $220,000.
NEW INDIANA STATE BUDGET PLAN WOULD KILL PROPOSED PRIVATE SCHOOL VOUCHER PROGRAM EXPANSION
Democratic Rep. Greg Porter criticized the voucher expansion as a "despicable" step that will leave traditional school districts with funding increases below the inflation rate while benefiting well-off families.
The budget deal also includes speeding up individual income tax rate cuts approved a year ago. Under the plan, the tax rate would decline in small steps from the current 3.15% to 2.9% in 2027 — two years earlier than currently scheduled.
CLICK HERE TO GET THE FOX NEWS APP
The budget agreement comes as the Republican-dominated Legislature faces a deadline to conclude this year's session by the end of this week.