Police in Massachusetts are searching for the remains of missing New Hampshire girl Harmony Montgomery, who investigators allege was killed by her abusive father.
Police are focusing the renewed effort in Revere, Massachusetts, based on "credible information," said Johnathon Miller, the adoptive father of Harmony's brother Jamison.
"Revere is very close to where her mother Crystal lived during the time of her disappearance, and not far from New Hampshire where her father lived at the time," he told Fox News Digital.
Montgomery's mother Crystal Sorey, who had previously lost custody, reported her missing around Thanksgiving in 2021, and investigators attempted to locate her and discovered she had been unaccounted for since 2019, when she was 5.
HARMONY MONTGOMERY CASE: MISSING NEW HAMPSHIRE GIRL'S FATHER ADAM INDICTED ON 2ND-DEGREE MURDER CHARGE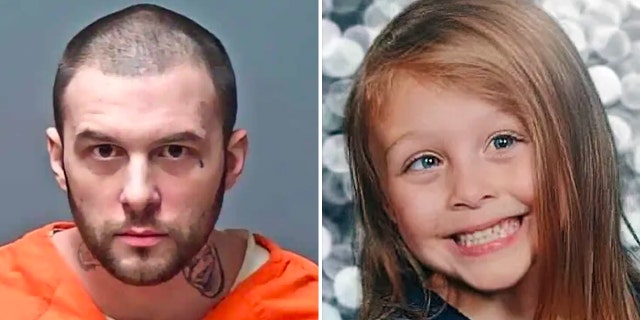 Adam Montgomery, Harmony Montgomery's father, allegedly pummeled the little girl in the head with a closed fist on Dec. 7, 2019. (Manchester Police)
Manchester, New Hampshire, police and Massachusetts state troopers were searching an undisclosed location in Revere, according to the New Hampshire Attorney General's Office.
"Due to the ongoing investigation, no additional information will be released at this time," spokesman Michael Garrity said in a statement. "Officials caution against any speculation related to the potential results of this search."
"We hope she can be found so our son, when he's older, and can comprehend this preventative tragedy, will have a place to visit and grieve his sister."

— Johnathon Miller, adoptive father of Harmony's brother Jamison
"We hope she can be found so our son, when he's older, and can comprehend this preventative tragedy, will have a place to visit and grieve his sister," Miller told Fox News Digital on Friday. "He often asks us, 'Why did my sister, my best friend, have to die?'"
Montgomery's father, Adam Montgomery, was indicted in January on a charge of second-degree murder after allegedly beating her to death days before Christmas in 2019.
Last summer, police in her father's hometown of Manchester said they believed she was dead. Her remains, however, were not recovered.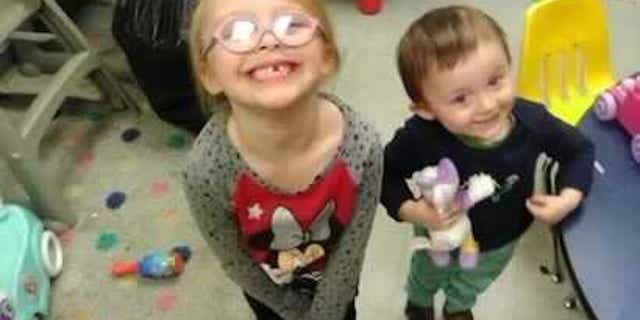 Missing Harmony Montgomery and her little brother Jamison at a foster home before she had been placed in her father's custody and he was adopted by the Millers. (Courtesy: Johnathon Miller)
MISSING HARMONY MONTGOMERY: TIMELINE OF NEW HAMPSHIRE GIRL'S DISAPPEARANCE
Adam Montgomery allegedly pummeled Harmony to death on Dec. 7, 2019, New Hampshire Attorney General John Formella said in an October news briefing, "under circumstances manifesting an extreme indifference to the value of human life."
Montgomery has been jailed since January 2022 on child abuse charges. He is also an ex-con heroin addict who shot a man in Massachusetts in 2014 and is a suspect in an unrelated cold case murder.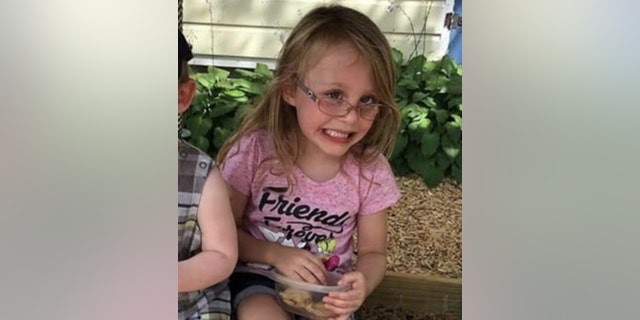 Harmony Montgomery in an undated photo. She is believed to have been killed by her own father just before Christmas in 2019. (Manchester Police Department)
Despite his violent, drug-addled history, a family court judge had placed the girl in his custody after his release from prison. Months later, she was gone.
His now-estranged wife Kayla Montgomery, Harmony's stepmother, told police her husband "had encouraged her on multiple occasions to lie to police about Harmony's whereabouts," according to investigators, who allege he also gave her a "cover story."
CLICK HERE TO GET THE FOX NEWS APP
Kayla Montgomery is also facing charges in connection with the girl's disappearance, including allegedly lying to a grand jury and collecting welfare payments on the missing girl's behalf for months after her death.
Anyone with information in the case is asked to call the dedicated tip line at 603-203-6060.