Protesters calling for gun safety legislation were blocked from bringing caskets inside Tennessee's Capitol, but a recently reinstated legislator escorted an infant-sized casket inside before he was barred from carrying it onto the House floor.
Protesters led by Bishop William Barber II marched in Nashville, demanding that lawmakers pass the legislation and stop using their authority to trample democracy. They carried several caskets symbolizing those lost to gun violence on Monday.
"The legislators are back, but returning duly elected lawmakers to their seat does not solve the problem," Barber said, demanding that lawmakers "stop committing policy murder."
TENNESSEE 1ST GRADER GOES VIRAL FOR DRESSING UP AS DOLLY PARTON FOR SCHOOL: 'TRULY HER OWN PERSON'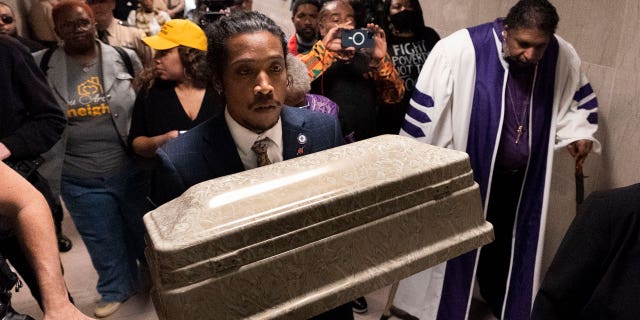 Rep. Justin Jones, D-Nashville, carries a casket through the halls of the state Capitol with Rev. William J. Barber, right, on April 17, 2023, in Nashville, Tennessee. (AP Photo/George Walker IV)
CLICK HERE TO GET THE FOX NEWS APP
The fatal shooting of six people at a Nashville private school last month kicked off a stream of calls for changes to Tennessee's gun laws, including a ban on assault weapons, tougher background checks and a "red flag" law. Republican Gov. Bill Lee has urged lawmakers to pass legislation that would keep firearms away from people who could harm themselves or others. So far, the Republican supermajority has refused.
Reps. Justin Jones and Justin Pearson, both Democrats, returned to the GOP-dominated General Assembly last week after being ousted for their role in a pro-gun control demonstration from the House floor. The episode has turned Tennessee into a new front in the battle for the future of American democracy and pressured lawmakers to address gun control in a state known for its lax firearm regulations.
On Monday, when protesters were blocked from bringing caskets inside, Jones carried an infant-sized casket past troopers and security, but the sergeant-at-arms stopped him from bringing it onto the floor. As Jones entered the chamber after the session and tried unsuccessfully to get the attention of Republican House Speaker Cameron Sexton, Pearson held the casket at the door. As Sexton left, he stopped for a moment to speak to a few protesters.