Mick Mars countersued Mötley Crüe on Thursday and accused the band of forcing him to resign after he chose to stop touring.
Mötley Crüe previously claimed that when Mars announced that he couldn't tour anymore, he was resigning from the band. However, Mars alleges that he told the band members that he could still play in a residency situation and could still record, according to court documents obtained by Fox News Digital.
The guitarist just could no longer "physically handle the rigor of the roads."
According to Mars, the band convened an emergency shareholders' meeting immediately after his touring announcement in an attempt to throw him out of the band.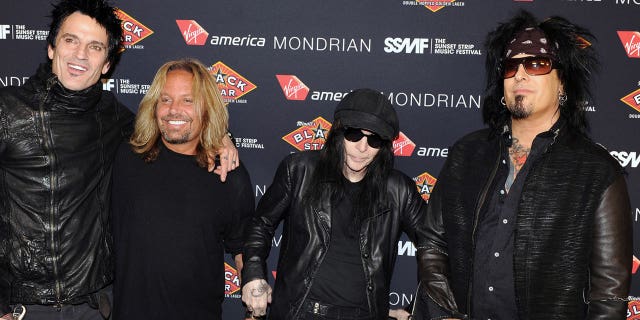 Mötley Crüe formed in the '80s. (Getty Images)
MOTLEY CRUE'S TOMMY LEE: AMERICAN MUSICIAN AND BAD BOY FROM THE 80s, 90s AND NOW
"It is beyond sad that, after 41 years together, a band would try to throw out a member who is unable to tour anymore because he has a debilitating disease," his attorney said in a statement to Fox News Digital. "Mick has been pushed around for far too long in this band, and we are not going to let that continue."
Meanwhile, lawyers for Mötley Crüe maintain that Mars gave up his rights to any future earnings from tours after he quit, according to Variety.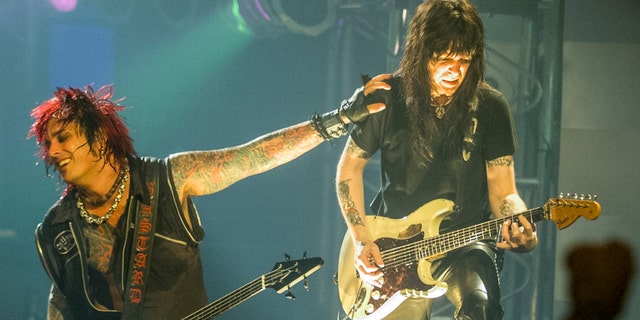 Nikki Sixx and Mick Mars of Mötley Crüe perform on July 15, 1999, in New York City. (Getty Images)
Nikki Sixx responded to the lawsuit on Twitter writing, "Sad day for us and we don't deserve this considering how many years we've been propping him up – We still wish him the best and hope he find's [sic] lawyers and managers who aren't damaging him. We love you Mick."
The back-and-forth between Mars and Mötley Crüe began in October. Fans became confused due to differing statements. Marks announced that he was retiring from tour due to his arthritis while the band claimed that he was retiring from music completely.
"Things get twisted around sometimes from other band members. I don't really know if I should say this, but . . . those guys have been hammering on me since '87, trying to replace me," Mars told Variety. "They haven't been able to do that, because I'm the guitar player. I helped form this band. It's my name I came up with [the Mötley Crüe moniker], my ideas, my money that I had from a backer to start this band. It wouldn't have gone anywhere."
CLICK HERE TO SIGN UP FOR THE ENTERTAINMENT NEWSLETTER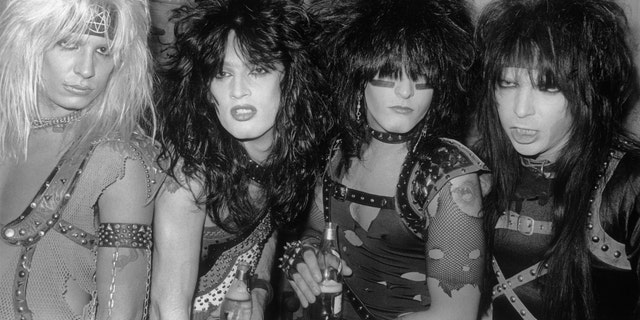 Vince Neil, Tommy Lee, Nikki Sixx and Mick Mars were the original members of Mötley Crüe. (Getty Images)
An attorney for the heavy metal band told the outlet that Mars was offered a "generous compensation package" after the announcement, but didn't take it.
"Retiring from touring is resigning from the band," Sasha Frid said in a statement. "The band's primary function is to tour and perform concerts. And as you saw from the amendment, if a shareholder resigns, he cannot receive any compensation from touring – which is what Mick is trying to get. It's clear-cut that Mick is not entitled to any more money."
Few heavy metal acts were as notorious in the 1980s onstage, as well as off, as Mötley Crüe, whose songs include "Looks That Kill," "Shout at the Devil" and "Girls, Girls, Girls." Fueled by drugs and booze, their stage show included excessive amounts of pyrotechnics and chain-sawing the head off a mannequin filled with blood.
Mötley Crüe were formed in 1981 by Sixx and Tommy Lee. The two were later joined by Mars and Vince Neil.
CLICK HERE TO GET THE FOX NEWS APP
The Associated Press contributed to this report.