Happy Wednesday, everybody. Tonight's monologue is dedicated to all our friends on the left who are failing upward. Leading the charge, VP Kamala Harris. It's the only time she's ever led. And congrats. According to a new poll from NBC, which is like a news network, but with Chuck Todd, Kamala is the most unpopular VP in recorded history. Think about that. She beat out Al Gore, some guy named Biden and even Dick Cheney and he shot a guy in the face. He had it coming, though, I think. I really don't know that story too well. Anyway, so who says women can't beat men when given the chance? Yes, ladies, you too, could suck every bit as much as men. She truly is the Bud Light of veeps. Roll the latest Sven.
VIDEO FO KAMALA HARRIS AND ANDY BRAVO DANCING
That was brutal. I haven't heard so much forced laughter since Kimmel hosted the Oscars. It was more uncomfortable than Hunter Biden on bring your daughter to work day. But even with Kamala's approval numbers in CNN territory, she's still a heartbeat away from the presidency. And when I say a heartbeat, I'm assuming that Joe still has one. He isn't even working at half-speed anymore. Here he is talking about Putin.
REPORTER: To what extent has Vladimir Putin been weakened by recent events?
If only that were true. At least then she'd be useful. Instead, she disappears for days or weeks, only to be found in Joe's kitchen, lacing his Ensure with Prestone. She's like a cicada surfacing occasionally to make an annoying noise. Her staff hates her. She really is the Janice Dean of politicians.
KAMALA HARRIS, GAFFE MACHINE: VP'S PUBLIC APPEARANCES MARKED BY AWKWARD MOMENTS, CONTROVERSIES
I know. It's all the scuttlebutt. Still, her chances of going from VP to P continue to rise. But isn't this all supposed to work the other way around? Aren't we supposed to be rewarding success and not failure? I mean, how about Karine Jean-Pierre? She just goes to show you you could be historic and still suck.
FAUCI LANDS NEW 'DISTINGUISHED' GIG TO OVERSEE INFECTIOUS DISEASE RESEARCH AT GEORGETOWN MEDICAL SCHOOL
And what do former New York Mayor Bill de Blasio and former Chicago Mayor Lori Lightfoot have in common? You know, other than making up one-half of the Addams Family? That's true! More like 2/5. They're both teaching at Harvard. You know the crime rate in those classes are going to skyrocket. I hope there's extra credit for public urination. And what about fired S.F. D.A. Chesa Boudin? Well, he went to Berkeley Law. Disgraced FBI Director James Comey went to Columbia Law and Hillary Clinton? She went to Columbia's School of Public Affairs. Public Affairs. Yeah, I'll just say them anyway.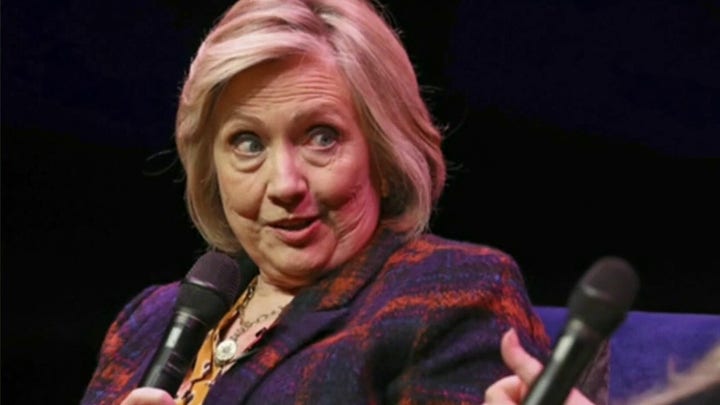 Video
But it does sound like a course her husband should be teaching. I mean, you could even lose the L and it would still work. Less than one would be the proper use of cigars. But, hey in Hillary's defense, I hear she's a killer behind the podium and in Jeffrey Epstein's jail cell. What are you booing for? Look, we all know that academia is where lefty failures go to make future lefty failures. But for all their education, no one taught them the meaning of meritocracy.