Sen. Lindsey Graham, R-S.C., went after Republicans who "justify" the leak of classified documents on Ukraine and China allegedly by a 21-year-old Air National Guardsman, arguing that to "sugarcoat" the behavior because the information paints the Biden administration in a negative light "will destroy America's ability to defend itself."
"I've been to Saudi Arabia and Israel. I can promise you it's been very damaging," Graham, appearing from Jerusalem, told ABC's "This Week" Sunday. "There's information about Mossad supposedly helping the protesters. There's information about the air defense capability of Ukraine. And everybody in the region is really worried because who wants to share information with the United States if you're going to read about it in the paper or find it on the Internet? So this has done a lot of damage to us in the region."
FBI agents arrested Massachusetts Air National Guardsman Jack Douglas Teixeira on Thursday after U.S. intelligence documents that had critical information about the war in Ukraine and Chinese relations were posted on the chat app Discord. Attorney General Merrick Garland said that Teixeira is being investigated for the "alleged unauthorized removal, retention, and transmission of classified national defense information."
Graham is to be briefed with other U.S. senators behind closed doors in more detail on the extent of the leaks.
ARREST OF CLASSIFIED DOCUMENTS LEAK SUSPECT JACK TEIXEIRA MET WITH OUTRAGE: 'INCOMPETENCE IS STUNNING'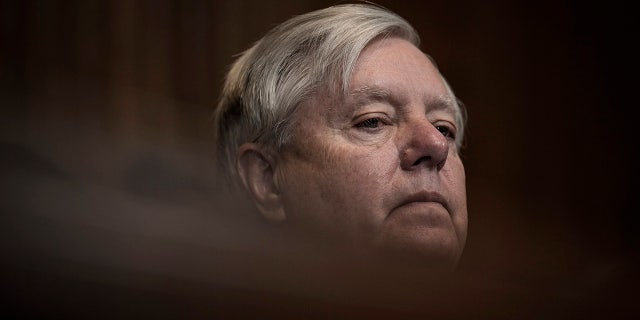 Sen. Lindsey Graham, R-SC, criticized Rep. Marjorie Taylor Green for "sugarcoating" Massachusetts Air National Guardsman Jack Douglas Teixeira's leak of classified documents.  (Drew Angerer/Getty Images)
"The system failed. This is a major failure. And those who are trying to sugarcoat this on the right, you cannot allow a single individual of the military intelligence community to leak classified information because they disagree with policy," Graham said.
"I don't know what led to this airman's actions, but he's done a lot of damage to our standing. It's very hard to get people to come forward right now to tell us about things we need to know about. If they feel like they're going to be compromised," he continued. "The sources and methods of how we collect on adversaries have been compromised, and I am stunned that somebody at that level could have so much access. So the question is, how did he get it, and why did he do it? And some people need to be fired over this."
RUSSIAN OFFICIAL SUGGESTS LEAKED US DOCUMENTS MAY BE ATTEMPT TO 'MISLEAD THE ENEMY'
Video
"As you mentioned, that there are some on the right that are not only sugarcoating it, but actually applauding him," the ABC host pressed Graham. "I mean, take a look at what Marjorie Taylor Greene tweeted. She said, 'Jack Teixeira is White, male, Christian and antiwar. That makes him an enemy to the Biden regime. And he told the truth about troops being on the ground in Ukraine and a lot more.'"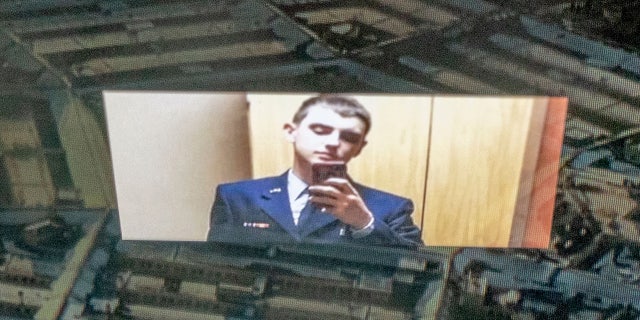 Jack Teixeira, seen reflected in an image of the Pentagon in Washington, DC, was arrested for allegedly being behind a major leak of sensitive US government secrets — including about the Ukraine war.  (STEFANI REYNOLDS/AFP via Getty Images)
"What they're suggesting will destroy America's ability to defend itself," Graham responded. "That it's okay to release classified information based on your political views. That the ends justify the means. It is not okay if you're a member of the military intelligence community, and you disagree with American policy, and you think you're going to be okay when it comes to leaking classified information."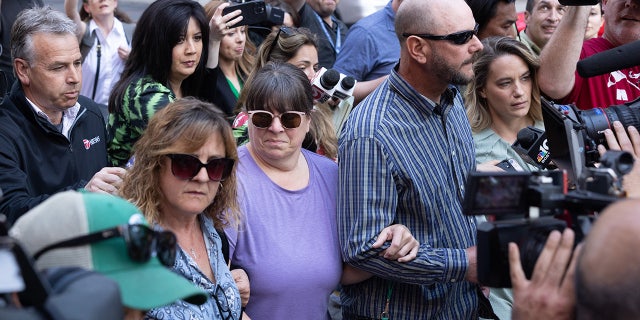 Relatives of Jack Teixeira leave John Joseph Moakley United States Courthouse following his arraignment on April 14, 2023, in Boston, Massachusetts. Teixeria, a Massachusetts Air National Guardsman, is charged in a major classified leak.  ((Photo by Scott Eisen/Getty Images))
CLICK HERE TO GET THE FOX NEWS APP
"There is no justification for this and for any member of Congress to suggest it's okay to leak classified information because you agree with the cause is terribly irresponsible and puts America in serious danger," he added.
Fox News' Maria Lencki contributed to this report.