A 5-year-old girl who was playing on her mom's cell phone, apparently purchased a haul of toys and accessories that made Christmas morning look like child's play.
Jessica Nunes of Westport, Massachusetts, told Fox New Digital she was "stunned" to see several shipping confirmations over email – alerting her to items she thought must have been fraudulent charges to her Amazon account.
"I was like, 'What? I haven't ordered anything,'" Nunes said. "So, I go to Amazon, scroll down on my order history and I see that I had ordered five pink motorcycles from one seller, five blue ones from another seller, a Jeep and 10 pairs of cowgirl boots."
NJ TODDLER BUYS OVER $1,700 WORTH OF GOODS ONLINE FROM WALMART
Nunes said her daughter, Lila Varisco, 5, who cannot yet read or write, found her way to the Amazon app and made the purchases totaling over $3,000.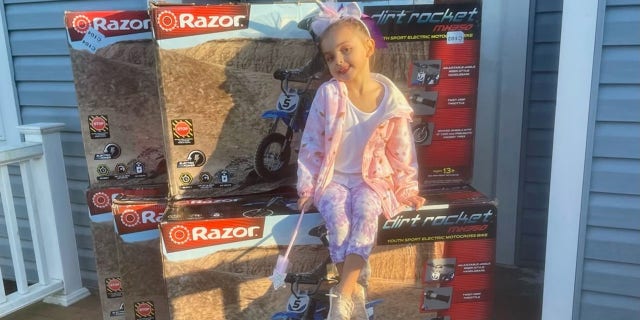 Lila Varisco, 5, purchased roughly $3,000 on the Amazon cell phone app, according to her mother, who said she was unaware of the purchases. (Jessica Nunes)
"Lila has a big personality," Nunes said. "She's very intelligent. A little too smart, I would say."
When Nunes asked her daughter if she had made some purchases, she said, 'Uh, maybe,' according to Nunes.
"I don't think she realized the gravity of what she had done," Nunes added
MOM CLAIMS AMAZON ALEXA SUGGESTED DANGEROUS ONLINE CHALLENGE TO CHILD
The two had been in the car much of the day, running errands, and Nunes said her daughter was "sort of maxed out."
Lila does not normally play on her mother's cell phone or any other devices – especially unsupervised, Nunes said.
"She doesn't have a phone or even have a tablet," Nunes said. "She doesn't have any of those things. She does play a game on my phone sometimes. It's like a little makeup game. It's just a silly little app. I gave her my phone, so she could play her game just to blow off steam."
Nunes said her daughter had the cell phone for "all of 15 minutes at most" and that was apparently when she did some online shopping.
GAMING YOUTUBER IN JAPAN CLAIMS PET FISH TOOK OVER NINTENDO SWITCH, WENT ON SHOPPING SPREE
"Lila knew about Amazon because around Christmastime we were scrolling through some different toys," Nunes said.
"I was adding them to the cart to get an idea of what she liked, so we could tell Santa," Nunes added.
Nunes said she had never purchased anything in front of her daughter, and is unaware as to how she learned to complete a transaction. However, Nunes added, she can make sense of Lila's choice of items.
"I just signed her up for horseback riding lessons, so I guess she figured she needed a pair of boots — or 10," Nunes said, laughing.
BABY'S OUTRAGED MOM TAKES TO TIKTOK AFTER TOY SPEWS CRUDE JOKES IN PLACE OF SONGS AND SOUNDS
She went on, "I think her thought process with the boots though, when she ordered 10, is that she's a size 10. So, I think she thought that she was ordering one pair of size 10 boots."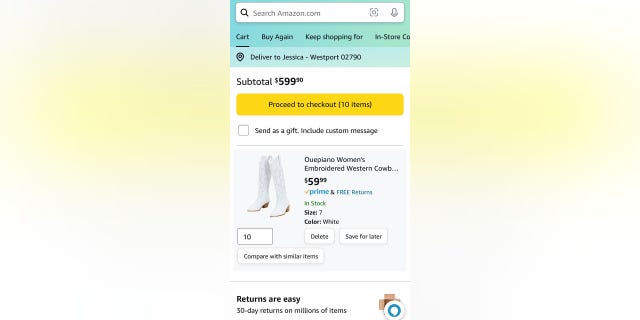 Lila had apparently ordered 10 pairs of boots with each pair costing $59.99. (Jessica Nunes)
Nunes said that the Sunday before Lila had placed her Amazon order, they had seen a boy at the park who was riding the Dirt Rocket bike that Lila ended up ordering.
"I knew it didn't look like something that was for her age range, so I told her, 'I'll look into it,'" Nunes said. "I was going to get her something a little bit more age appropriate, not that exact model. But I still don't know how she found that specific item on Amazon. It's crazy."
Nunes said she was able to cancel half of the bikes, thanks to a seller who noticed that something was off.
POLICE WARN PARENTS ABOUT 'SCHOOL PHOTO' TREND OF OVERSHARING ON SOCIAL MEDIA
"The first seller had actually reached out to me and they said, 'We just want to confirm that you actually want to buy [this many] bikes,'" Nunes said.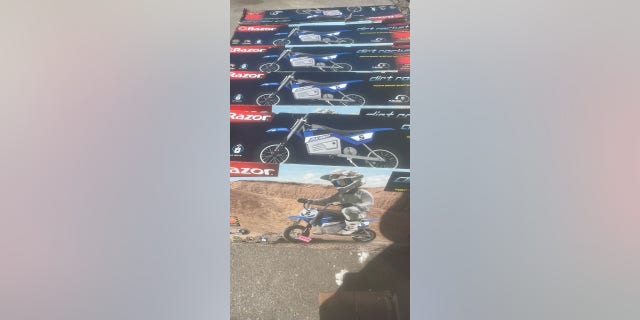 Lila Varisco, 5, ordered multiple electric bikes on Amazon, according to her mother. (Jessica Nunes)
"[The seller said], 'If so, we'll happily send them out. If not, let us modify your order.' I said, 'Yes, please cancel.'"
The boots were able to be returned, too, Nunes said. However, five of the 10 bikes had already left the warehouse, and they were non-returnable, Nunes added.
"I was very stressed because those bikes alone were about $1,600," she said.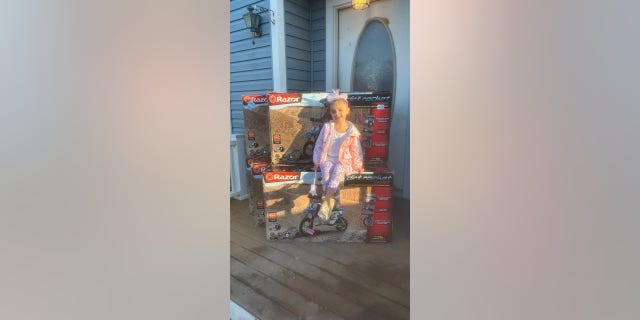 Lila did not get to keep her Amazon purchases, her mom said. (Jessica Nunes)
Nunes said Amazon was able to help her get everything straightened out.
She also said she takes responsibility for what happened.
FAMILY GAME CHANGER? WHY MOMS AND DADS ARE TURNING TO A VIRAL '5-SECOND' PARENTING TIP
Nunes said that Lila did not get to keep any of the Amazon purchases.
"I told her down the road maybe she can earn something, and we'll talk about it," Nunes added.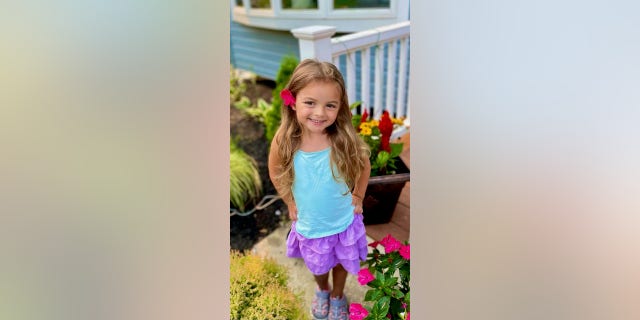 Lila Varisco, 5, has recently signed up for horseback riding as a hobby. (Jessica Nunes)
Nunes said the situation has reminded her of the importance of passwords.
CLICK HERE TO SIGN UP FOR OUR LIFESTYLE NEWSLETTER
Rather than punishment, Nunes said hopes she is teaching her daughter valuable lessons about money.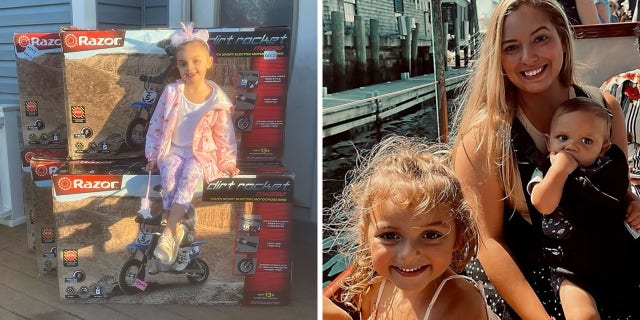 "I told her down the road maybe she can earn something, and we'll talk about it," Jessica Nunes told Fox News Digital in reference to her daughter's Amazon spending spree. (Jessica Nunes)
"I know that she does understand on some level that she wanted something, she ordered it, she got it," Nunes said. "But I'm trying to make it more about the value of money and the value of earning things."
CLICK HERE TO GET THE FOX NEWS APP
Fox News Digital reached out to Amazon for comment.