A former passenger who visited the Titanic wreck site on board OceanGate's now-missing Titan submersible craft says everyone involved in the deep sea journey was "intimately informed" how much of a "dangerous mission" it was.
Fred Hagen spoke to "Fox & Friends" Wednesday morning as the Coast Guard estimates there is less than 24 hours of oxygen remaining in the Titan, which vanished Sunday on an expedition to visit what remains of the Titanic.
"There were safety protocols in place. I know there is a big controversy now that there has been a catastrophe, people are second-guessing and wondering why there weren't backup systems," said Haden, a businessman and explorer from Pennsylvania. "We were all told – intimately informed – that this was a dangerous mission that could result in death and injury. So that was well understood.
"We were versed in how the sub operated, we were versed in various protocols – but it's not a safe operation inherently," he added. "And that is part of research and development and exploration and experimentation."
Hagen visited the wreckage of Titanic alongside French mariner Paul-Henry Nargeolet, another person who is missing.
NEW ASSETS 'ON-SCENE' IN MISSING TITANIC SUBMARINE SEARCH AFTER CANADIANS PICK UP 'UNDERWATER NOISES'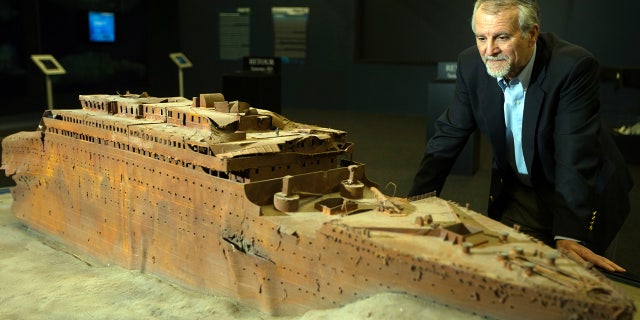 Paul-Henry Nargeolet, director of a deep ocean research project dedicated to the Titanic, poses next to a miniature version of the sunken ship inside a new exhibition, at Paris Expo on May 31, 2013, in Paris. He is among the missing aboard Titan. (JOEL SAGET/AFP via Getty Images)
He described Nargeolet as "one of the most wonderful, warm human beings I have ever met."
It remains unclear what happened to the OceanGate Titan.
CLICK HERE TO GET THE FOX NEWS APP
"As long as there is the chance of them surviving and coming back to us alive we have to focus only on rescue.… We have to believe that we have to make every effort," Hagen told "Fox & Friends."