A Florida city police officer was reportedly arrested and stripped of his duties after being pulled over by a county sheriff's deputy for alleged reckless driving.
Officer Alexander Shaouni was allegedly driving 80 mph in a 45 mph zone in a marked Orlando Police Department vehicle when he was pulled over by a deputy of the Seminole County Sheriff's Office, according to police dashcam footage.
The deputy activated his lights and raced to catch up with Shaouni's SUV after reportedly noticing him speeding down a local road.
"Over 100 miles an hour trying to catch up to him," the deputy noted, according to video.
"Because you are going 80 in a 45," the deputy replied.
POLICE HELICOPTER VIDEO CAPTURES FLORIDA DEPUTIES CHASING DOWN HOME INVASION SUSPECTS
"I am going to work," Shaouni said, indicating his Orlando Police Department uniform. "What does it look like I'm dressed for, what does it look like I'm dressed for?"
Shaouni was subsequently relieved of duty and an investigation is pending, according to the Post.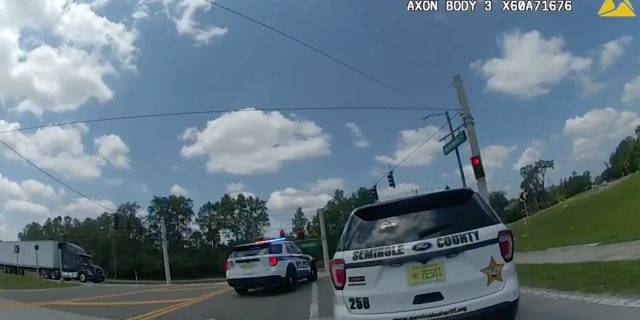 Following their back-and-forth, footage showed Shaouni refusing to give the deputy his driver's license before getting back into his vehicle and speeding off again. (Seminole County Sheriff's Office)
"The Orlando Police Department was notified by the Seminole County Sheriff's Office on Friday, June 9th that OPD Officer Alexander Shaouni was involved in an incident that occurred in Seminole County that resulted in criminal charges," the Orlando Police Department said in a statement to local WESH 2 News.
CLICK HERE TO GET THE FOX NEWS APP