EXCLUSIVE: The Chinese Embassy in Washington, D.C. is urging a House Republican chairing the committee investigating the origins of the coronavirus to "respect science" and stop "targeting China" just days before a hearing is scheduled.
Li Xiang, the Chinese Embassy's liaison to Congress, emailed a staff member for House Select Subcommittee on the Coronavirus Pandemic Chairman Rep. Brad Wenstrup on April 14, R-Ohio, and expressed China's "perspectives" on the COVID-19 origins issue ahead of a hearing on Tuesday titled "Investigating the Origins of COVID-19, Part 2: China and the Available Intelligence."
The full email, obtained exclusively by Fox News Digital, shows Xiang blasting the select committee's efforts to track down the coronavirus origins as being mostly political.
"We call on the US side to respect science and facts, refrain from targeting China in holding the above-mentioned hearings, and put a stop to the intelligence-led, politics-driven origins-tracing, and help promote international solidarity against the pandemic and global cooperation on science based origins-tracing," the 2:15 a.m. email from Xiang states.
CHINESE EMBASSY EMAILS HOUSE REPUBLICAN STAFF EXPRESSING 'GRAVE CONCERN' WITH COVID-19 ORIGINS HEARING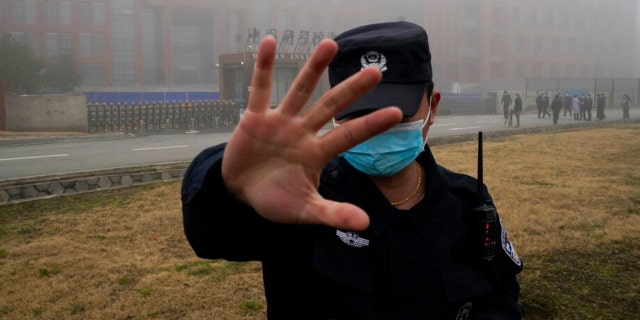 A security person moves journalists away from the Wuhan Institute of Virology (AP Photo/Ng Han Guan, File)
In the email, Xiang appears to blame the United States for its so-called "failure" regarding the COVID-19 pandemic, appearing to push a conspiracy theory amplified by Chinese government officials alleging that the coronavirus may have originated in a United States military laboratory.
"The hearing just demonstrates that the US is going further and further down the wrong path. To simply blame others or find a scapegoat for its own failure and incompetence is the easiest thing to do, but it is neither responsible for the past nor helpful for the future," he wrote.
READ THE LETTER BELOW. APP USERS: CLICK HERE.
He also said in the email that origins tracing is a "complex matter of science" that should "be conducted jointly by scientists," arguing that intelligence community research isn't credible.
"Intelligence community, which is highly political in nature, cannot possibly produce anything objective or credible on such professional matter. We oppose "political tracing" or "intelligence tracing". We oppose any attempt to lable China esp. Wuhan as the origin of the virus before any concrete evidence is presented and conclusion is drawn collectively by the scientists all over the world," Xiang said.
"We oppose any political manuveur such as 'verdict first, then comes trial,'" he added.
CHINA WRITES FURIOUS LETTER TO HAWLEY ON COVID ORIGINS BILL: 'POLITICAL MANIPULATION'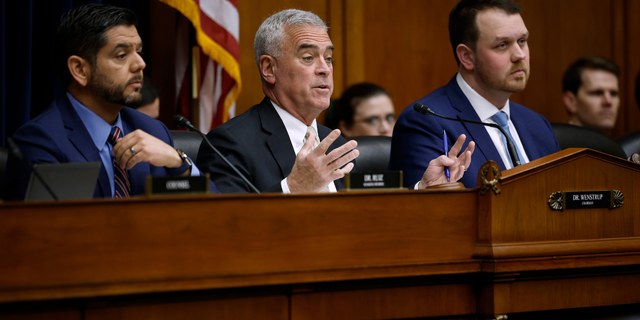 House Select Subcommittee on the Coronavirus Pandemic Chairman Brad Wenstrup (R-OH) (C) questions witnesses during a subcommittee hearing with ranking member Rep. Raul Ruiz (D-CA) (L) in the Rayburn House Office Building on Capitol Hill on March 08, 2023, in Washington, DC. Witnesses and members of the subcommittee aired and debated their disagreements about the possible origins of the COVID-19 coronavirus and whether it came from nature or a laboratory in China. (Chip Somodevilla/Getty Images)
While Xiang wrote that China "is always ready to cooperate with other countries on origin tracing," World Health Organization Director Tedros Adhanom Ghebreyesus called out the Chinese government in March for not disclosing now-avalaible genetic material from Wuhan should have been presented when the virus began.
The Chinese Embassy liaison to Congress also said he has "grave concern" with Tuesday's hearing and "firmly" opposes it.
A spokesperson for the Select Subcommittee on the Coronavirus Pandemic told Fox News Digital on Saturday that the Chinese Embassy's attempt to disrupt the subcommittee's work is "absurd."
CHINA SAYS IT 'HOPES AND BELIEVES' GERMANY WILL SUPPORT ITS 'PEACEFUL REUNIFICATION' WITH TAIWAN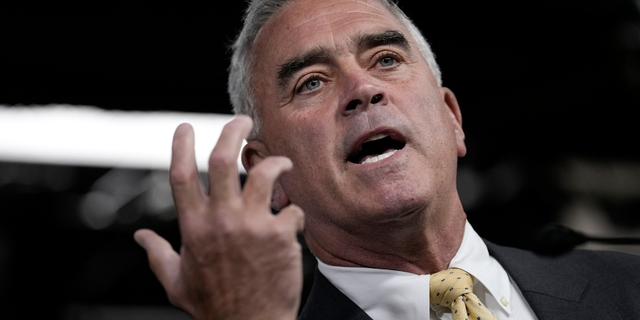 Rep. Brad Wenstrup (R-OH) speaks during a news conference with members of the House Intelligence Committee at the U.S. Capitol August 12, 2022, in Washington, DC.  (Drew Angerer/Getty Images)
The hearing on April 18 will feature testimony from Former Director of National Intelligence John Ratcliffe and Former U.S. Deputy Assistant Secretary of State for East Asian and Pacific Affairs David Feith.
In March, Xiang sent a letter to the chief of staff for Sen. Josh Hawley, R-Mo., stating that the Missouri senator's bill to declassify information regarding the origins of COVID-19 were an act of "political manipulation."
CLICK HERE TO GET THE FOX NEWS APP
"I am reaching out to express our grave concern regarding the 'Covid-19 Origin Act of 2023' (S.619), which falsely claimed that the Covid-19 coronavirus originated from Wuhan Institute of Virology, accuses China of blocking international investigations, refusing to share information and lacking transparency etc. and required the Director of National Intelligence to declassify information relating to the origin of COVID–19. China firmly opposes and strongly condemns this," the letter states.
Fox News' Elizabeth Elkind contributed to this report.